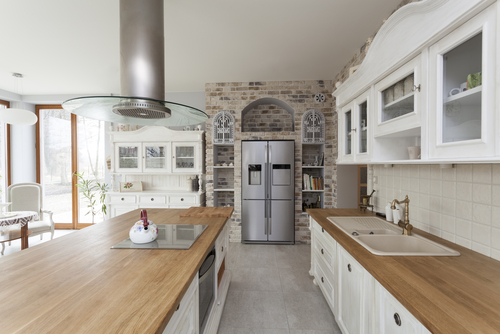 I have always had a serious case of wanderlust. Traveling is one of those educational experiences that truly is priceless. Experiences had over a proper cup of tea in an English tea room or while savoring the best marinara sauce on a trattoria's streetside table in Italy or during a quiet moment of silence in a Buddhist temple in Nepal are moments that inform our aesthetic psyche. Great rooms and awe-inspiring interior design are often the results of such instances in one's life.
Being inspired by such travel doesn't necessarily mean carbon copying a room and reproducing it thousands of miles away, because part of the beauty of such a room might be the location itself — the quality of light streaming in through a window or the heaviness of a particular fabric woven out materials that are indigenous to an area. Inspiration in interior design should just be a point of departure, a nuance, but you should allow the geographic location of a project to inform the project from there.
A few years ago, I had clients who had returned from a trip to Tuscany … and wanted me to transform their Florida beachside condo into a Tuscan villa. While I am partial to Tuscan design, their insistence in being literal about the design caused many problems and headaches, and after a few years passed, they agreed with me that their stubbornness about the design was a bit heavy-handed. Soon thereafter, they called me once again to de-Tuscanify their beach place.
From California to Texas to upstate New York, Mediterranean Revival style homes are very popular, but this doesn't mean every item in your home needs to make a direct reference to your last Italian vacation.
Here are some tips on how to remove the Tuscan influences and make your home updated and livable:
— Forget the colors of the sunsets, burnt oranges, browns and ochres of Italian villas. Repaint your home's walls in neutral tones that will set the stage for a hip, contemporary vibe. Try colors such as off-whites, pale grays and ivory tones that will be flexible and still play off some of the heavy and dark wood pieces of furniture you may have.
— Forget the faux finishes in their entirety. Venetian plaster and marbleized finishes had their day and may come back around in 10 years, but for now, they are interior design no-nos.
— Remove the tourist-quality painting of the Trevi Fountain or the Colosseum, and replace it with some simple contemporary art. This will help tone down any antiques or reproduction Mediterranean-style furniture.
— Kitchens are expensive to redo, but if you are stuck with a kitchen that looks straight out of a Merchant Ivory film, the easiest thing is to order new, simpler, flat-paneled doors and drawer fronts, and if needed, have the cabinets painted a neutral tone to do away with the glazed finish of a decade ago.
Inspiration should also be followed by the word "moderation." Your inspiration should be just that, not a de facto copy of any particular style.
Joseph Pubillones is the owner of Joseph Pubillones Interiors, an award-winning interior design firm based in Palm Beach, Florida.
Please enable JavaScript to view this content.