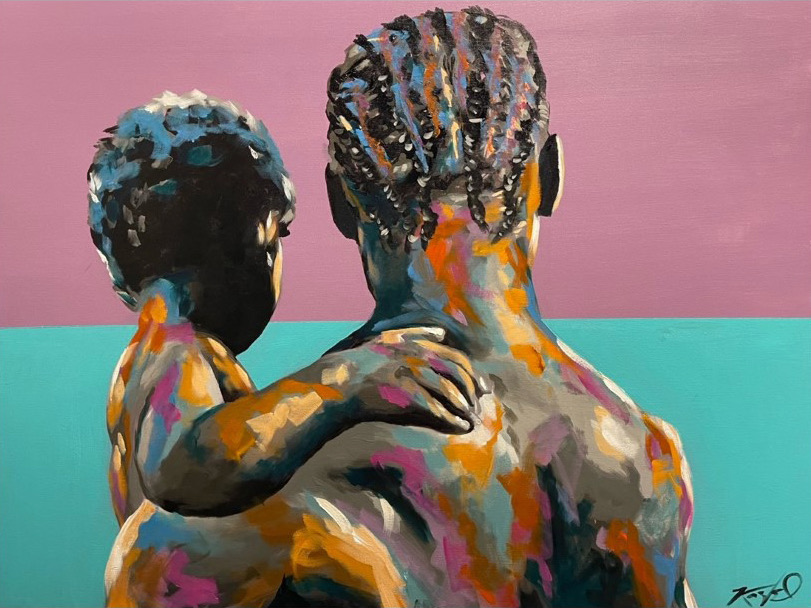 More than 5,000 people attended the second Butter fine art fair at downtown's The Stutz, where four Indiana institutions acquired artwork to add to permanent collections.
The Labor Day weekend event organized by cultural development firm GangGang grew from its 2021 debut, where 3,400 attendees gathered and artwork sales reached $175,000.
Although artwork sales figures aren't finalized for this year's Butter, the fair racked up more than $250,000 in purchases through Monday, organizers said.
One of the pieces, a textile work by Ball State University alum April Bey, sold to Newfields. When exhibited at the Stutz, 1060 N. Capitol Ave., Bey's work titled "Atlantican Archives: A Group of Beyonces Founded Earth" was priced at $20,000.
Works by 42 Black artists were displayed at Butter, an event that requires no fees from artists and collects no commissions on sales.
"Artists are the heroes of society," Malina Jeffers, co-founder of GangGang and co-curator of Butter, said in a prepared statement. "It's a dream to be able to narrate that through something so impactful and immersive like Butter. Happenings like this test new models of power in the arts industry. It's been very exciting to watch it all unfold."
In addition to Newfields' purchase of Bey's textile work, Richmond Art Museum, Eskenazi Health and Central Indiana Community Foundation acquired artwork at the event:
A quilt by Indianapolis native Julian Jamaal Jones (Richmond Art Museum).
A painting by Indianapolis native Amber Zuri (CICF).
A painting by IUPUI alum Kevin West (CICF).
Three paintings by Terre Haute native Courtland Blade (two by Eskenazi Health, one by CICF).
A painting by IUPUI alum Matthew Cooper (Eskenazi Health).
Overall, collectors spent $164,755 for 83 artworks by Indiana-based artists and $85,250 for 26 pieces by national artists.
U.S. Rep. Andre Carson, D-Indianapolis, spoke publicly during Butter's preview night on Thursday, saying he invited Jeffers and GangGang co-founder Alan Bacon to an upcoming hip-hop and politics conference in Washington, D.C.
GangGang, founded in 2020, generates operational funds through Butter ticket sales and merchandise sales. General admission tickets were priced at $35 for Friday through Sunday at Butter. Tickets for Thursday's preview night were $175.
The organization has a goal of raising $500,000 by the end of 2022. To donate, visit ganggangculture.com.
The curatorial team of Butter included Jeffers, Bacon, Braydee Euliss, formerly the executive director of bygone museum Indianapolis Contemporary, and Sarah Urist Green, host of PBS Digital series "The Art Assignment."
Please enable JavaScript to view this content.