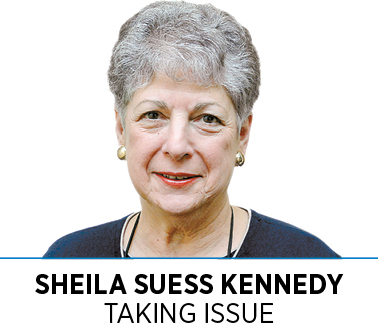 Here's a question to ponder: When efforts to implement the economic policies that form the basis of current GOP ideology simply do not work as anticipated, does the party adjust its approach to conform to the evidence? Or does ideology continue to trump reality? (Pun intended.)
Kansas has provided us with a real-world answer.
When Sam Brownback was elected governor of Kansas in 2012, he vowed that the GOP's economic theology—often characterized as "trickle down"—would make the state an economic paradise, and he immediately set about implementing that theology. Kansas' super-majority Republican Legislature concurred, and helped Brownback eliminate income taxes for more than 100,000 businesses and significantly reduce taxes on the wealthy.
For years, it has been an article of Republican faith that such steps would greatly boost economic growth, and more than pay for themselves. Despite any real-world confirmation of this belief, Brownback was clearly a True Believer.
As a number of credible economists predicted, Brownback's policies failed to deliver the promised prosperity; instead, they devastated the state's economy.
State revenue fell dramatically. School years and school days were shortened, public construction projects came to a screeching halt, Medicaid benefits were reduced, and job creation moved elsewhere.
The political consequences were equally unpleasant.
In 2016, Kansas voters—Republican and Democrat alike—who were horrified by what was happening to their children's educations and their public infrastructure—revolted. Republican primary voters voted out the legislators who were refusing to repeal the tax cuts, and in the next session, the lawmakers they installed overrode Brownback's veto of a bill repealing the cuts. In 2018, voters elected a Democrat, Laura Kelly, as governor.
With adequate tax funding restored, Kansas resumed its support for education, infrastructure, and what columnist Harold Myerson has dubbed "the basics of civilization."
But what about economic growth? Did the return to higher tax rates throttle down Kansas' already faltering economy, as the ideology predicted?
To the contrary.
CNBC issues an annual list of "America's Top States for Business." Usually, states don't move up or down much from one year to the next, but on this year's list, Kansas placed 19th—which is a full 16 places higher than it placed last year.
The GOP's response to this "real world" experiment reminds me of old-time American communists who dismissed Russia's disastrous experience by saying Russia simply hadn't done communism "correctly." Similarly, President Trump and U.S. Sen. Mitch McConnell repeated the "Brownback Argument" to justify passage of 2017's massive tax cuts to businesses and the wealthy.
As the Kansas experiment predicted, share buybacks have soared to new heights while wages and infrastructure investment have risen barely at all. Of course, the federal government—unlike the states—can run deficits, and the federal deficit is soaring. A report from the Congressional Budget Office predicts that, under current tax law, the national debt will rise from 78% of the economy to 105% over the next decade. "Beyond 2029, if current laws remained in place, deficits would grow, driving debt to its highest levels in the nation's history," according to the report.
Brownback resigned early in 2018 to become the Trump administration's ambassador at large for international religious freedom. (This administration's approach to "religious freedom" could provide grist for a different column.) Brownback is probably a good fit for the role, since his approach to public policy in general, and economic policy in particular, is clearly based upon faith, irrespective of experience and evidence.
Religion requires faith. Public policy, however, should be based upon evidence.•
__________
Kennedy is a professor of law and public policy at the Paul H. O'Neill School of Public and Environmental Affairs at IUPUI.
Please enable JavaScript to view this content.