A few months ago, John Willoughby wasn't sure how he was going to get to his doctor's appointments for his heart and diabetes problems. The retired delivery driver from Brownsburg didn't have a car or much money.
"I'm on low income," he said. "I was struggling to pay my rent."
Then Larissia Winfield, his resource coordinator and care navigator at Community Health Network, told him about Aunt Bertha, an online "social care network" that lets users search for free or reduced-cost services, such as transportation, food and housing. By plugging in a ZIP code, users can peruse a wide range of low-cost services, from bus passes and baby clothes to job placement and discounted health care.
With a few clicks, Willoughby, 54, was able to find transportation through the Central Indiana Council on Aging, a not-for-profit that helps seniors get to medical appointments, grocery stores, pharmacies, and other necessities for $5 a round trip. With a few more clicks, and Winfield's help, Willoughby found lower-cost housing through a federal Section 8 program.
"Aunt Bertha has been great," Willoughby said. "No problems, no complaints."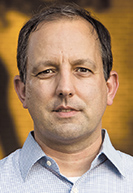 In the past year or so, several of central Indiana's largest hospital systems have jumped on board with Aunt Bertha, a tech company based in Austin, Texas, founded by Erine Gray, an Indiana University graduate originally from upstate New York.
The company, which launched its product in 2014, has signed up more than 200 large customers, including the American Red Cross and AARP. In central Indiana, customers include Indiana University Health, Eskenazi Health and Anthem Inc., in addition to Community Health. In the process, more than 4 million people in all 50 states have used Aunt Bertha's search tools, conducting nearly 20 million searches.
Hospital systems here say their aim is to provide a helpful clearinghouse for patients in need of housing, transportation, food and other critical services—factors sometimes called "social determinants of health."
Although the United States spends more per capita than any nation on health care, medical care accounts for only 10% to 20% of a population's health, according to the National Academy of Medicine, The other 80% to 90% are healthy habits, environmental factors such as access to parks and hiking trails, and socioeconomic factors such as ability to get to the grocery to buy fresh food.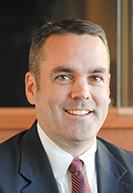 "We know there's a lot of things that impact the health and well-being of our patients that occur outside the four walls of Community Health Network," said Dr. Patrick McGill, the hospital system's chief analytics officer. "They are things like food insecurity, housing insecurity, domestic safety, transportation, financial assistance, legal assistance, things like that."
Connecting with services
More than two years ago, Community Health began looking at a way to help patients in need by connecting them with community benefits organizations. The Indianapolis-based hospital system looked at numerous vendors before landing on Aunt Bertha, which it liked for the company's ability to connect to its electronic medical records system and case management portals to give doctors, nurses, social workers and others a quick way to see if a patient might be in need of basic services and to help find them resources.
Across the United States, hospitals are looking high and low to help patients with basic services, traditionally thought to be an individual's own responsibility. It represents a shift, but one that is coming in response to financial pressures to do more to help with a patient's all-around care, and help reduce the high price of unnecessary care, such as frequent visits to emergency rooms.
"There's a story often told about a child that keeps ending up in the emergency room with asthma," said Dr. Chris Callahan, chief research and development officer at Eskenazi Health, the safety-net hospital in Indianapolis for underinsured patients. "But the real problem was a toxic environment at home that would be less expensive to fix than all of the emergency room visits."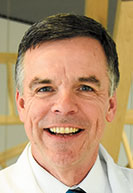 Eskenazi began exploring online social care networks more than a year ago at the prompting of its CEO, Dr. Lisa Harris, a longtime advocate of healthy food and nutrition for patients in at-risk environments. She put together a work group that would screen patients for risk factors such as food, housing and transportation problems.
Around the same time, the Indiana University School of Medicine's Clinical and Translational Sciences Institute was looking at several groups in Indiana and nationally that were purchasing software to help patients, students and customers get better access to life's necessities. It compared the features of companies and narrowed the list to two leading vendors: Aunt Bertha and Chicago-based NowPow.
Then Eskenazi found out that Community Heath had begun using Aunt Bertha. So had Anthem, Ivy Tech and several other institutions. That sealed the deal.
"We decided if there are two or three vendors we might be equally happy with, let's choose the one that our sister organizations are using," Callahan recalled. "And that will make it easier on the community-based organizations, because they won't have to deal with multiple platforms, and it will be easier for the patients, too."
Indiana University Health also came on board, and found Aunt Bertha helpful for patients seeking help, as well as for doctors and caseworkers managing the patient's care.
"Tools like this really create a network of community resources and health care resources," said Tori Bratcher, IU Health's director of population health operations.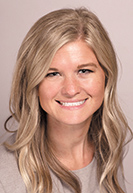 Franciscan Health said it doesn't use Aunt Bertha but offers social services and referrals to patients in other ways. For years, it has operated a food pantry within the hospital, providing food and other necessities for needy patients and their families upon discharge. It also offers transportation home to needy patients upon discharge. Its Grace Project offers support across a spectrum of needs, from job training to baby supplies.
Meanwhile, some other hospitals privately said they are taking a look at Aunt Bertha or a similar platform. Patients and even large organizations, from hospitals to universities, can use the platform's basic search features for free. Aunt Bertha, for one, charges extra for hospitals that want the system connected to their electronic health records and case management portals. Community Health said it pays $60,000 a year for the service.
Growing business
Landing big customers in Indianapolis is the latest feat for Aunt Bertha, a for-profit company that just marked its 10th birthday and now has 160 employees, mostly based in Texas.
"We've had a lot of rapid growth in Indiana over the last two years and, boy, it's really taken off lately, which I'm excited about, being a Hoosier," said Gray, who grew up near Buffalo and graduated from IU in Bloomington with a bachelor's in economics.
He said the company grew out of a personal project nearly two dozen years ago, when he became his sick mother's legal guardian after his father became ill. Gray's mother suffered from a brain disease and required 24-hour care. But Gray had no idea where to find it, or how to begin looking.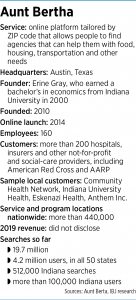 Out of frustration, he began the tedious job of calling and searching for social service agencies that might help. He put his findings into an online search platform that listed dozens of subsidized housing programs, food pantries and other social service programs.
Gray named the platform Aunt Bertha as a way of announcing that everyone has someone like an Aunt Bertha who needs help.
Eventually, he began to share his platform with outsiders, and landed millions of dollars in angel and venture funding to hire workers to expand the site's features to hundreds of cities.
"We all run into hard times," Gray said. "And I wanted to create an experience that felt like, it's OK, everyone lives through difficult times. … People are caring for their parents or caring for their siblings or other loved ones. … Maybe their kid has a rare form of cancer and they're looking for a support group."
At his data operations center in Austin, about 50 employees work full time to update and add links to the website in hundreds of cities, so far listing nearly a half-million programs.
In Indiana, more than 100,000 users have conducted more than 500,000 searches, from food pantries to detox programs. And users or social agencies can suggest new links or programs, based on what they're seeing in their communities.
"The nonprofits who run these services have access to our system to let us know about changes, and they can actually make those changes directly," Gray said.
Aunt Bertha's sales have grown by high-double-digit percentages the past three years, he said. But he declined to disclose revenue.
Indiana hospitals that use Aunt Bertha say they have nothing but praise so far for the service.
"When someone is sitting in front of you, and they're telling you they struggle with food or housing, I as a physician am not necessarily equipped to help that patient with that problem," said McGill at Community Health.
Even social workers and case managers had to rely on their own repertoire of social service agencies and community-based organizations to help patients in need. Much of the referral service was done piecemeal and individually, not in a comprehensive way.
"This is a potential solution to a problem that everybody in health care has known existed for a long time," McGill said. "Using a platform like this actually broadens the scope and breadth of where our social workers and case managers can refer someone for a particular need."•
Please enable JavaScript to view this content.