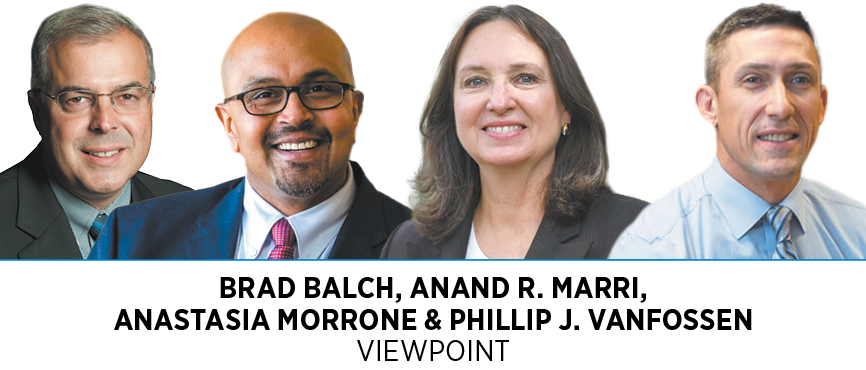 We often hear that we are truly a society that values education. We've asked ourselves two key questions: Why should high school students want to go to college? And if they do, why should they become teachers?
Our four schools—the Indiana University Bloomington School of Education, Teachers College at Ball State University, Purdue University College of Education and Bayh College of Education at Indiana State University—are coming together to encourage students to consider going to college to become teachers—and to change lives in the process. There is perhaps no job with more consequence than that of being a teacher. Even as staffing shortages affect many levels of education across school systems, teachers—because of their commitment to changing lives—deserve tremendous respect.
Recruiting college students is a highly competitive market and, therefore, it may seem strange that four competing institutions would come together to talk about the importance of improving education. But at this critical point for our students, we are stronger when we work together. If our schools all attract the best possible future teachers, collectively, we can encourage the importance of attending college and ultimately improve the quality of teaching for everyone.
Schools are central gathering places for communities, especially in rural settings, and teachers are integral to socializing students in their communities, state and the world. They also help inspire a love for life-long learning—and help encourage students to continue their education beyond high school.
Going to college offers students both tangible and intangible value. While the tangible benefit of a college education is easy to grasp, the intangible is harder to measure, but that doesn't decrease its importance. Exposure to other people, cultures, ideas and values broadens a student's mind and ultimately contributes to the continued health of our constitutional republic. It's a journey that starts—and continues—many times in a classroom. Our schools offer residency and apprenticeship programs in which pre-service teachers can work and study at the same time. They assist right alongside teachers while gaining valuable experiences in classroom management, curriculum planning and assessment.
The landscape of education has changed so significantly over the last 10 years that—in some ways—it has made our profession more challenging. Now, more than ever, Indiana needs teachers who are both qualified and dedicated to ensuring that our children are educated, thoughtful and informed people in every role in society.
We want and need the very best teachers. We must honor the profession by finding ways to better support our teachers, who make a difference every day in the lives of children across Indiana.•
__________
Balch is dean at the Indiana State University Bayh College of Education. Marri is dean of the Ball State University Teachers College. Morrone is dean of the Indiana University Bloomington School of Education. VanFossen is interim dean at the Purdue University College of Education.
Please enable JavaScript to view this content.