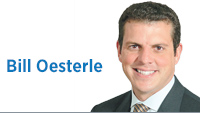 Last month, representatives from Ball State University had time to kill while visiting Indianapolis. They were in town to scout a new location for an Indianapolis branch of their School of Architecture. Their real estate agent suggested they take a look at the Elevator Hill campus on the near-east side.
As it was on their way back to Muncie, the BSU delegation made a stop at the former site of Angie's List. I may be biased, but this might have been the side trip that changed everything for east-side Indianapolis.
I am an owner of the Elevator Hill campus. It consists of four square blocks roughly bounded by Ohio Street, I-65/I-70, Washington Street and Highland Avenue. It contains 18 acres and about 28 buildings. It is the former headquarters for Angie's List.
Obviously, having a high-quality tenant is good for our little real estate project, but I think Ball State might have an impact much broader than that.
President Geoffrey Mearns and his team have a big vision for Ball State in Indianapolis. Their plans are still under development; but if their initial experience is successful, they are considering adding faculty and students from several schools.
The university wants to put a heavy emphasis on community involvement and project-based, experiential learning. For a university with excellent programs in architecture, business and education, the opportunities to engage and shape the east side are enormous.
Elevator Hill sits adjacent to I-65/I-70, one of the biggest urban design challenges in the state. School 14, two blocks east, contends valiantly with the largest transient student population in IPS. Startups dot the whole east side, drawn by low rent and an urban vibe.
I have written before that the east side is growing a unique identity. For most of my 30 years in this city, the perception was that east-side neighborhoods had an "other side of the tracks" feel. Literal tracks and the interstate that separate the east side from downtown always have been a barrier to the eastward development from downtown.
In the last five or 10 years, however, a new dynamic has begun. A unique culture has developed extending from upper Massachusetts Avenue south to Fountain Square. A potent combination of affordable housing stock, cheap rent and quirky space have attracted a diverse, but somewhat contemporaneous, group of restaurants, businesses and new residents.
These have meshed well with what was already there. There is a growing consistency to the inconsistency. I love, for example, that Ball State will be one block from a laundromat that rents rooms for $10 a night. No booze, no women, hot plate included.
The east side has not had a university presence since 1927, when Butler moved to the old Riverside Park on what was then the north side. I grew up in a university town. There is a kind of energy that radiates from them. They always attract good food, good bars and young companies.
A really great college town requires some local color, some local funk, if you will. The east side has this in abundance. Ball State University, welcome to the east side. I expect great things.•
__________
Oesterle is the CEO at Tmap LLC. He managed Republican Mitch Daniels' first run for governor. Send comments to ibjedit@ibj.com.

Click here for more Forefront columns.
Please enable JavaScript to view this content.