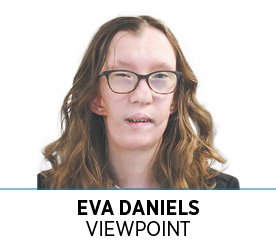 The Americans with Disabilities Act, a law designed to bring equity and opportunity to those with disabilities, was passed in 1990. Yet 30 years later, we are still working toward dismantling ableism and ableist ideas. Part of the solution involves removing structural barriers that prevent access, but more-so we must confront the social stigma surrounding disabilities that prevents opportunity and inclusion.
For someone with a disability, the presence of that disability is not the problem. The problem is the inherent barriers and social stigma that person faces on a daily basis. Able-bodied people tend to be unaware of the multifaceted challenges that come with having a physical disability, and the lack of empathy leads to disparity.
People with disabilities are unemployed and underemployed to a greater extent than their able-bodied peers and face lower wages, misunderstanding and limitations on their earning capacity if they must rely on essential things such as attendant care. Employment is a key piece in providing people with physical disabilities the opportunity for full civic and economic inclusion.
The Gregory S. Fehribach Center at Eskenazi Health helps college students with physical disabilities find paid internships while removing barriers that prevent students with disabilities from seeking internship experiences (i.e., transportation, housing). These internships are mainly focused within the student's major and/or areas of interests and skills. Some students work onsite at Eskenazi Health, while others work at organizations like Christel House, Eli Lilly and Co., Old National Bank, BraunAbility, The Children's Museum of Indianapolis, Conexus Indiana and Fifth Third Bank.
Greg Fehribach, the center's founder, recognized how important it is for college students with physical disabilities to obtain economic independence. From personal experience, he knew the primary way to achieve this was through work experience during college that would maximize competitiveness in the workforce and, ultimately, lead to a full-time career.
Since its creation in 2013, the Fehribach Center has provided 175 internships to 100 students from 29 colleges and universities. In addition to furthering the goal of employment, the center has served as a gathering place for students with physical disabilities to come together, find mentors and peers, and explore questions they might otherwise be afraid to ask.
As we progress into the next 30 years of ADA, how do we craft a different narrative and provide more inclusion and opportunity? We do what the ADA was striving to do in the first place and do it better than we have before.
When speaking about the ADA, former Fehribach Center intern Lizzie Ford said, "They [society] follow the letter of the law, not the spirit of the law." Thirty years ago, this law was set in place so people with disabilities would have the same access to opportunities as their able-bodied peers.
While society has come a long way since the law was passed, there is no ignoring the work that remains to be done. And that can be achieved only if we all work together. Help remove the barriers and recognize our interest and right to workplace opportunities that will help people with disabilities obtain economic independence, inclusion and lifelong success.•
__________
Daniels, a Gregory S. Fehribach Center summer intern, is a senior at Ball State University.
Please enable JavaScript to view this content.