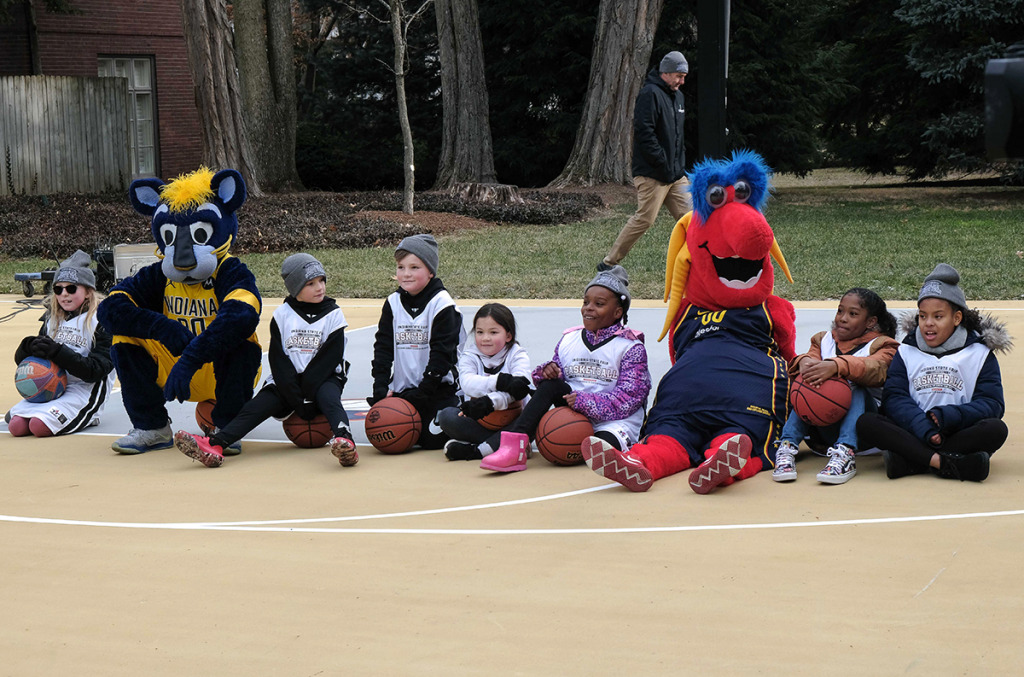 The Indiana State Fair unveiled on Monday its theme for 2023: "Basketball: Celebrating the State that Grew the Game."
The theme represents a do-over of what was planned for the 2020 fair, "We Grow Basketball Here," before the coronavirus pandemic canceled the event. The 2023 Indiana State Fair is set for July 28-Aug. 20 at the Indiana State Fairgrounds.
Pacers Sports & Entertainment, which operates the Indiana Pacers and Indiana Fever, is the title sponsor of the "Celebrating the State That Grew the Game."
The theme will play out this year in multiple interactive features at the fair, including a basketball-themed amusement park, the Pacers Sports & Entertainment Court, and exhibits paying homage to the state's basketball heritage.
Gov. Eric Holcomb hosted Monday's announcement on a basketball court at the governor's residence on the north side of Indianapolis.
"It's a 10 out of 10 slam-dunk decision," Holcomb said of the theme while wearing a pair of red Converse Chuck Taylor All Stars shoes. The governor mentioned a handful of iconic players who made their mark in Indiana, including Larry Bird, Reggie Miller, Tamika Catchings, Rick Mount, Keith Smart and Bobby Plump.
"I will play any role," Holcomb said of the 2023 fair. "I will give tours at the basketball amusement park. I will turn the lights on for the light show. … I am a lifelong fanatic of this game and what you can learn on the court."
In 2020, the fair's basketball theme was in place in advance of the 2021 NBA All-Star Game scheduled for the Pacers' arena, Gainbridge Fieldhouse. That game was relocated to Atlanta because of the pandemic and scheduling conflicts.
The 2024 NBA All-Star Game is scheduled Feb. 18 at Gainbridge Fieldhouse, six months after the hoops-themed 2023 Indiana State Fair.
Fair organizers also plan to feature storytelling experiences highlighting 18 of Indiana's greatest basketball stories—one for each day of the fair—and player meet-and-greet opportunities.
Indiana Farmers Coliseum has historic ties to Pacers Sports & Entertainment. The arena served as home court for the Indiana Pacers from 1967 to 1974, and the WNBA's Indiana Fever played 12 home games at the arena in 2021 during renovations at Gainbridge Fieldhouse.
The fair began designating themes in 2007:
2007: "Year of the Corn"
2008: "Year of Indiana Trees"
2009: "Year of the Tomato"
2010: "Year of Pigs"
2011: "Year of the Soybean"
2012: "Year of the Dairy Cow"
2013: "Year of Popcorn"
2014: "A Time to Celebrate" (Coliseum reopens)
2015: "The Year of the Farmer"
2016: "Celebrating Indiana's Bicentennial"
2017: "The Wonderful World of Food"
2018: "Step Right Up" (Circus theme)
2019: "Heroes in the Heartland"
2020: "Basketball" (fair was canceled because of the pandemic)
2021: "Celebrating the Hoosier Spirit"
2022: "Celebrating Indiana's Automotive Excellence"
2023: "Basketball: Celebrating the State that Grew the Game"
Please enable JavaScript to view this content.