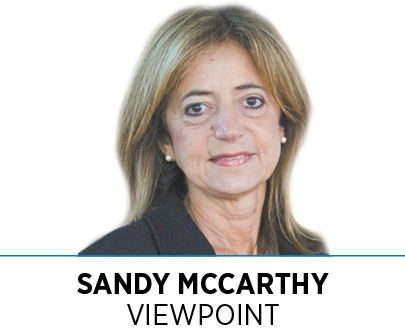 As Indiana schools adapted to e-learning throughout 2020, so have area career-exploration programs that help students begin their career journey. These programs educate students about high-demand careers available upon graduation and act as a catalyst for businesses to develop an incoming workforce through partnerships with organizations developing these curriculums.
As a Junior Achievement of Central Indiana board member, I have been exposed to the importance of participating in these programs and the positive impacts they have on both our community and workforce.
Despite COVID-19's effect on employment, Indiana Career Ready still projects financial management careers to be in greatest demand. For OneAmerica, this means we must be ever evolving in all aspects of engaging students and provide them with the necessary skills, training and information needed to pursue careers in finance.
As a company, we have aligned ourselves with JA to educate students about finance management and budgeting, as well as spark and maintain interest in financial careers through various programs.
Our earliest engagement with students is through JA BizTown, a financial-literacy lab helping fifth-grade students experience personal finance in real-life settings of stores, shops and financial institutions, essentially letting them be an adult for the day. OneAmerica is a JA BizTown sponsor, and our employees volunteered to show students what it's like to work, save money and plan for retirement.
In September, the OneAmerica team led JA JobSpark's business and finance cluster and served as the cluster's volunteer coordinator for the virtualized 2020 event. JA JobSpark, a two-day career exploration program involving more than 10,000 central Indiana eighth-graders and dozens of industry professionals, serves as a great conduit between our business and students so we can assist, uplift and provide kids with the education they need to plan ahead.
By establishing a relationship with a reputable organization, we've learned to incorporate these workforce-outreach initiatives into our own company. In 2019, OneAmerica developed our Pathways Junior Fellows Program based on JA's "It's My Job" curriculum, which introduces students from low-income neighborhoods in and around downtown to the working environment of financial services. The goal of this program is to get juniors, seniors and recent high school graduates prepared for sustainable careers while helping to create a pipeline of future employees for OneAmerica and other financial companies.
During the program, participants are paired with mentors who guide them through a five-week course that includes job shadowing, skills development, project-based learning and more. OneAmerica Chairman, President and CEO Scott Davison is heavily involved in mentoring our junior fellows and previously served as director and chairman of the board of Camptown, an Indianapolis not-for-profit serving local youth.
As more companies move toward establishing partnerships with community organizations, doing so strategically and early will provide companies with an advantage over other businesses vying for future employees. OneAmerica and companies like us demonstrate that an eagerness to help our youth can result in company growth by grooming quality employees in an industry with high demand for them.•
__________
McCarthy is president of retirement services at OneAmerica.
Please enable JavaScript to view this content.