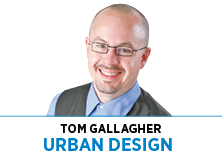 The original 1821 plat of Indianapolis, crafted by Alexander Ralston and Elias Fordham, established a single square mile near the center of Indiana for the establishment of a new state capital. As the story goes, the plat was limited to what we now know as the Mile Square, because no one could imagine the city ever needing to be any larger.
Rail changed that.
Less than 30 years later, the first interstate railroad arrived, and in the following six years, the city's population more than doubled.
By 1853, eight rail lines converged here, precipitating the establishment of the country's first "union station" and forever changing the trajectory of Indianapolis.
The recently released transportation plan from the Biden administration includes numerous initiatives that will be significant to cities, but the $80 billion designated for upgrading passenger rail is one of the most significant and could vault Indy forward.
Federal reinvestment in an extensive intercity rail transportation network would follow half a century of neglect and a bias toward highways and air travel. According to the Center for American Progress, in the seven years from 2008 to 2015, "Congress has provided almost as much general fund support for highways as Amtrak has received in 45 years of operations."
To be clear, this does not mean passenger rail will replace these other modes, nor should it. It is, however, a key component in a more balanced and equitable transportation system. A trip from Indy to St. Louis or Chicago, for example, where the drive or a flight are annoyingly similar in duration, is well suited for rail travel and could even benefit airlines by relieving the pressure of these short and expensive flights.
Passenger rail, which is more energy-efficient and less polluting, could also help us take a major step toward carbon-emission reduction.
But the most meaningful aspect of the reinvestment could be the stimulus it would provide for regional economies, especially for so-called legacy cities (former industrial powerhouses that have struggled with the decline of manufacturing) and others throughout the Midwest. The enhanced connectivity would provide a meaningful boost to local economies. Imagine what it could mean for a place like Shelbyville to find itself as the "midway" stop between Indy and Cincinnati on a high-speed rail route.
A high-speed, intercity, passenger connection to Indy would also mean new opportunity for a beloved historic icon of the city—Union Station. The highly successful mixed-use and transit-oriented redevelopment of the Union Station district in Denver is testament to the possibilities of passenger rail. That district, since its completion in 2014, has solidified the popular LoDo neighborhood and generated an estimated $3.8 billion in total economic impact.
Any major rail improvements in Indy would almost certainly include the long-contemplated modernization of the "belt line," which would move all rail freight out of downtown. Even with renewed passenger rail lines arriving at Union Station, we could turn to our advantage the remaining outmoded portions of the raised viaducts along the south side of downtown. Imagine combining a pedestrian and human-powered vehicle amenity, like the High Line in New York City or the 606 Trail in Chicago, with a passenger rail line—similar to what Atlanta has proposed for its Belt Line trail.
The old Union Line viaducts would become a "super-connector" of transportation modes that would link workplaces, hotels and neighborhoods to one another and to all of downtown's major event venues and the White River.
There might be another advantage not often considered. Air travel takes people over cities, highways take people around cities, but rail travel takes them through cities.
I suspect most of us have had the experience of talking with people from outside the Midwest who consider Indianapolis flyover territory. But when they actually visit, their perception often changes for the better.
Turn-of-the-20th-century urban rail stations were grand by purpose. They were a city's first impression and first ambassador. I look forward to the possibility of our Union Station once again standing for all that Indy was, is and can be.•
__________
Gallagher is a principal and urban designer with Ratio and a professor-in-practice of urban design at Ball State University. Send correspondence to TGallagher@ratiodesign.com.
Please enable JavaScript to view this content.