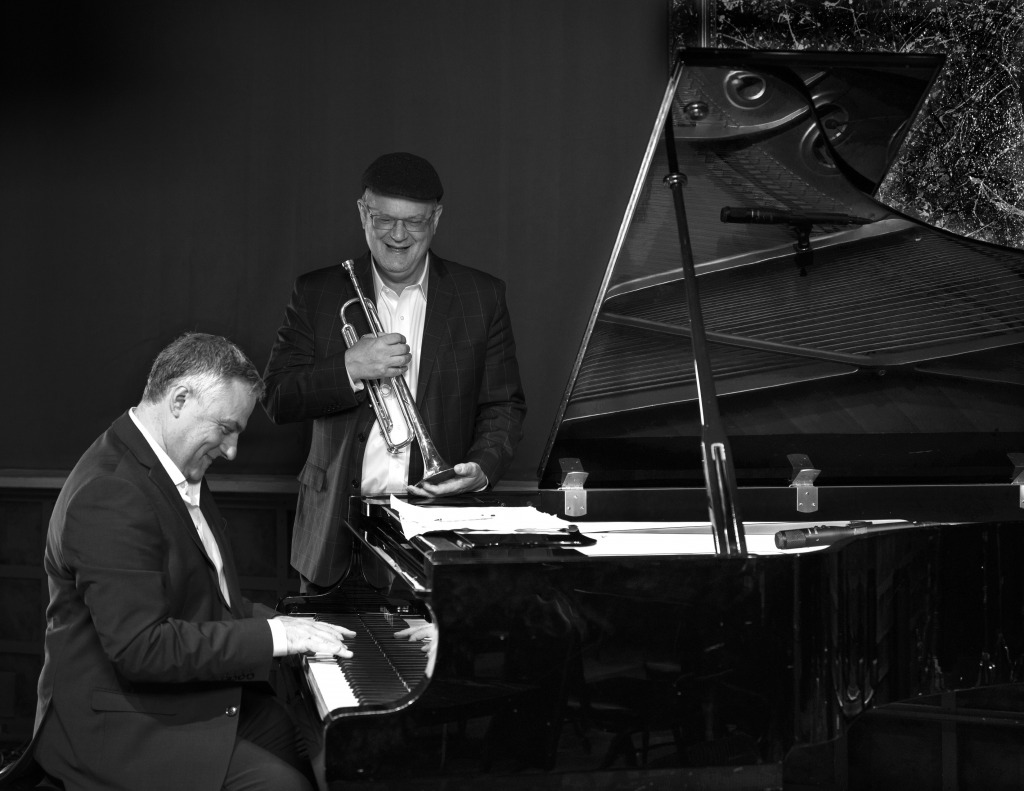 One hundred years ago this week King Oliver's Creole Jazz Band visited the Gennett Records studio in Richmond for a two-day recording session, making history not only because of the participation of young trumpet player Louis Armstrong but for being the rare place where jazz was recorded at all.
The legacy of Gennett Records is celebrated by the Buselli-Wallarab Jazz Orchestra on an upcoming double album titled "The Gennett Suite."
The big band of 18 members will perform "The Gennett Suite," which is inspired by Oliver and Armstrong as well as by pianist Jelly Roll Morton, trumpet player Bix Beiderbecke and Indiana native Hoagy Carmichael, across two shows April 30 at the Jazz Kitchen.
"We are so proud of Indiana's role in the development of jazz from its earliest years and the development of recording technology from its earliest years," said Brent Wallarab, co-founder of the group and arranger of "The Gennett Suite." "In the 1920s, they changed the face of music globally. That's how this great music was distributed around the world."
Wallarab and trumpet player Mark Buselli co-founded the Buselli-Wallarab Jazz Orchestra in 1994. Wallarab initially reimagined songs recorded in Richmond for a BWJO tribute to Gennett in 2003. Those performances became the first draft of what eventually became the double album set for release on June 9. Other iterations of the composition were performed live in 2017 and 2018.
For history's sake, 2023 makes sense as the year "The Gennett Suite" fully arrives. In addition to April 5-6 being the centennial of the King Oliver sessions, "King Porter Stomp" composer Morton made his recording debut as a soloist in July 1923 at the Gennett studio.
Richmond, a Wayne County city that borders Ohio and had 25,000 residents in the 1920s, became the home to early jazz recordings because record labels in other cities weren't interested in the new sound.
Joe "King" Oliver moved his popular band from New Orleans to Chicago, but only Fred Gennett—son of Starr Piano Company owner Henry Gennett—invited Oliver to Richmond to record "Chimes Blues," "Dipper Mouth Blues" and other songs.
Black artists ranging from Oliver, Armstrong and Morton to blues icons Charley Patton and Blind Lemon Jefferson recorded at Gennett's studio. Conversely, the open-door facility also recorded and pressed records for members of the Ku Klux Klan.
"What I think is great is that people are still talking about the Jelly Roll Morton records and the King Oliver records and Louis Armstrong's first solo," said Wallarab, the David N. Baker associate professor of jazz studies at Indiana University's Jacobs School of Music. "Nobody even knows about those other records they recorded there. They've just been lost to the dustbin of history, where they belong. Thank goodness that Gennett saw fit to record these amazing artists when nobody else would at that time."
Buselli, chair of the jazz studies program at Ball State University, describes Wallarab as one of the "greatest arrangers living today." Buselli said his role in the group's leadership is focused on details such as personnel, scheduling and educational outreach.
"We've appeared in front of 50,000 students in the greater Indianapolis area, delivering educational programs about the state of Indiana and everything that came from it," Buselli said.
In a recording career featuring one album that paid tribute to Carmichael and two albums that paid tribute to iconic jazz educator Baker, Buselli said "The Gennett Suite" is the group's "crowning jewel so far."
Wallarab said he wanted to retain original melodies and prominent rhythm when arranging the double album's four segments: "Royal Blue," "Blues Faux Bix," "Hoagland" and "Mr. Jelly Lord."
"That music was so joyful, and it was so full of optimism and beauty," Wallarab said. "A lot of music and art today reflects kind of the ugly side of humanity, and I understand art does that. But I wanted to connect with the other side of what humanity has to offer, to try to preserve that optimism and joy and sense of hope."
The Roaring '20s, after all, were booming.
"Women had the right to vote and you had the opportunity in the North for so many Southern Blacks," Wallarab said. "It was a time for that kind of optimism. I wanted to project that because even when people are feeling a little weird about how things are going now there's still an opportunity for us to think about the good things and how we can make things better."
Buselli-Wallarab Jazz Orchestra
When: 6 and 8:30 p.m. April 30.
Where: The Jazz Kitchen, 5377 N. College Ave.
Tickets: $30 to $45 (6 p.m. show is sold out).
Info: Visit thejazzkitchen.com.
Please enable JavaScript to view this content.