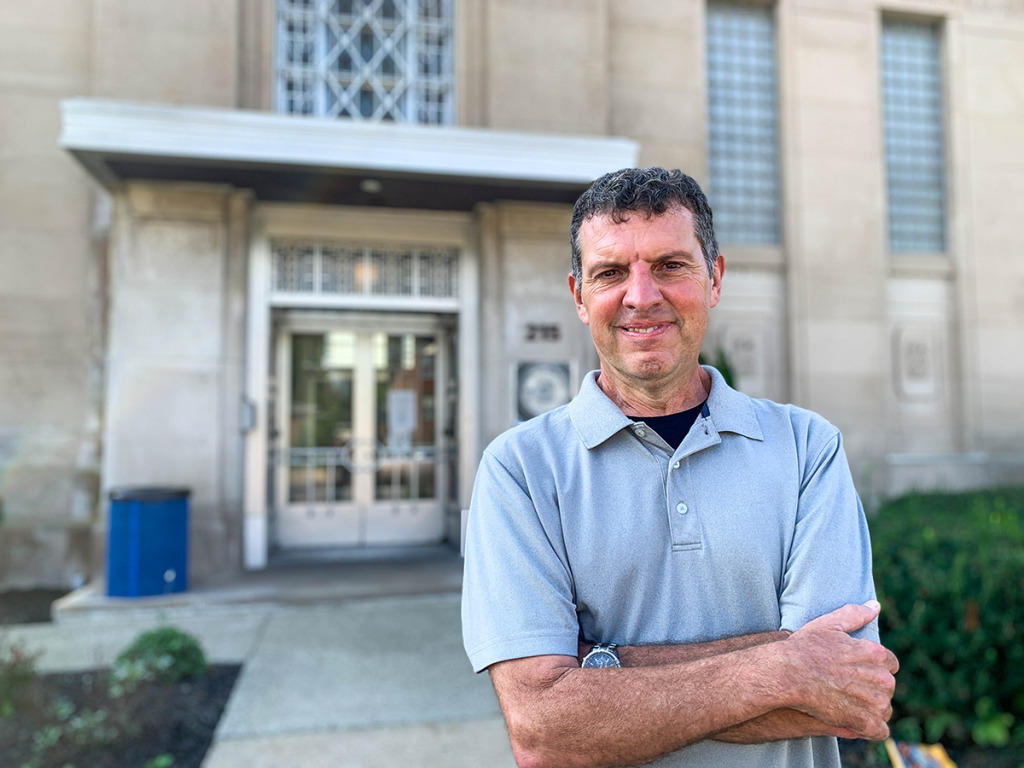 Bill Oesterle of Indianapolis, known for his wide influence in the spheres of entrepreneurship, politics and beyond, has died at age 57.
Oesterle died at home early Wednesday from complications of amytrophic lateral sclerosis, or ALS.
Oesterle's list of accomplishments included co-founding and serving as CEO of Indianapolis Angie's List, which he helped transform from a relatively small company into a publicly traded company before it was acquired by New York City-based IAC Inc. in 2017 for $750 million.
He also persuaded Mitch Daniels to run for governor and managed Daniels' first gubernatorial campaign in 2004. He cofounded the Orr Fellowship, and most recently founded Indianapolis-based TMap, whose MakeMyMove platform helps communities nationwide attract new residents in the age of remote work.
Oesterle received the 2021 Michael A. Carroll award, an IBJ award named after the late Indianapolis deputy mayor and civic leader. The award honors individuals who demonstrate determination, humility and service.
"His loss is going to be deeply, deeply felt by a lot of people," said Mark Lubbers, who worked as an aide to then-governor Robert Orr and hired Oesterle for a job in the administration in 1987.
Oesterle, a Lafayette native, earned an economics degree from Purdue University and went on to earn an MBA from Harvard Business School.
Lubbers and Oesterle went on to work together at the Hudson Institute, a now-Washington, D.C.-based think tank that was headquartered in Indianapolis from 1984-2004, and on Daniels' gubernatorial campaign.
For Oesterle, the worlds of business and politics had a common thread, Lubbers said—in both cases, Oesterle was focused on making connections and building relationships.
After Lubbers persuaded Oesterle to seek an MBA at Harvard Business School, Daniels had some strong opinions on what he should do afterward.
"Mitch sat me down for breakfast before I went to business school and he pointed a finger at my chest and said, 'You'd better come back here. You owe it to us,'" Oesterle, who was 23 at the time, said last year in an interview.
"I'm not often at a loss for words, but trying to imagine a world without Bill Oesterle leaves me that way," Daniels said Wednesday in an email. "He was a job creator, a community builder, a lifelong advocate for Indiana and a person with an enormous heart for others.
"He always said I was the person who persuaded him to return to Indiana: If that is so, it's the single service I'm most proud of."
ALS is a degenerative disease that affects nerve cells in the brain and spinal cord, causing the gradual loss of muscle control over time, eventually causing the loss of abilities including walking and speech.
But despite that, those who knew him said he never lost the optimistic and action-oriented outlook that defined his life.
"He is one of the most persistent people I've ever met. He does not give up on anything," MakeMyMove CEO Mike Rutz told IBJ earlier this month. "I don't think there's a problem he doesn't believe there's a solution to."
As recently as this month, Rutz said, Oesterle was still actively involved in MakeMyMove.
"I have daily meetings with Bill when he's feeling OK," Rutz said on May 2. "The guy's relentless."
Those who knew Oesterle also characterized him as someone who was wide open to new ideas and who challenged others to stretch beyond their comfort zones—while also having fun along the way.
"A lot of business people think they know everything, and they're very limiting on the job to be done," Lubbers said. "With Bill, if you had an idea that might seem crazy, he would never shut the door on it—which is one of those things that makes an entrepreneur an entrepreneur."
On the Daniels campaign, Lubbers recalled, he and a photographer were tasked with producing campaign ads. Daniels was campaigning by traveling the state in a recreational vehicle. When Lubbers and his photographer showed up to get footage, they felt that the spirit of the campaign, and of Daniels, couldn't be adequately portrayed in a 30- or 60-second campaign ad. So they pitched an unconventional idea to Oesterle: How about producing a series of 30-minute television shows about the Daniels campaign, then buying time to air them on TV? It would be part C-SPAN, part reality show.
It was out-of-the-box thinking, Lubbers said, even "outrageous," but Oesterle needed little convincing before green-lighting the idea.
"Bill got it intuitively and was willing to take a big chance," Lubbers recalled.
 The TV shows ended up being "very strategically consequential" in a way that no one could anticipate, Lubbers said. Daniels won the election.
Oesterle also had a gift for involving other people in pursuit of big goals, said Peter Lazarz, who joined MakeMyMove last fall as its director of content.
Lazarz first met Oesterle when Lazarz served as an intern on Daniels' first gubernatorial campaign. Lazarz went on to do an internship at Angie's List, then served as an Orr Fellow—also working at Angie's List for that fellowship.
His first big task at Angie's List was to analyze the performance of the company's national advertising campaigns. Lazarz gave it a shot, even though he had been an economics major at Purdue and never studied marketing.
Oesterle had a true faith in people's ability to achieve big things, Lazarz said. "That's always something that I'm grateful for."
But working hard didn't get in the way of having fun, Lazarz said. One of the Angie's List campus buildings had been a former firehouse, and because of that Oesterle wanted to have a firetruck and firepole as part of the building's decor. As an Orr Fellow, Lazarz was assigned the task of finding a functional firepole and have it installed. Another Orr Fellow was assigned to get a fire truck delivered from Texas.
The truck and pole—and the story of how they got to Indianapolis—became part of Angie's List's corporate lore, Lazarz said. "Bill loves a good story," Lazarz said last week.
Inclusion was also an important value for Oesterle, his friends and associates say.
When Oesterle got married, Lazarz said, the entire staff of Angie's List—at the time, about 2,000 people—was invited. The wedding reception included several tables' worth of employees who accepted that invitation.
"If Bill is doing something, you want to be part of it," former Angie's List employee Kelsey Taylor told IBJ last week. "When you work with Bill, you work with him, not for him. It's always a collaboration of ideas."
Taylor joined Angie's List in 2007 when she took a job as wellness director. As part of that job she ran the company's employee fitness center.
In 2018, after both Oesterle and Taylor had exited Angie's list, Oesterle led a group of investors who paid $10.7 million to acquire the former Angie's List campus just east of downtown, known as Elevator Hill. Those other investors included John Chuang, Peter Coolidge, Steve Kapner and Henry Hauser.
A $250 million office, housing, retail and entertainment district is now on the drawing board for the 18-acre Elevator Hill district.
IBJ Corp. owners Bob Schloss, Nate Feltman and Mickey Maurer—who was an Angie's List board member—also have a stake, as does John Thompson, chairman and CEO of Thompson Distribution Co.
Oesterle approached Taylor with an idea: Would she open her own on-site fitness facility as an amenity for Elevator Hill's tenants? Taylor hadn't been thinking of owning her own business, but Oesterle's query gave her the confidence to act. She opened her business, Taylor Made Wellness, in 2019.
"If you work with Bill, he makes you think bigger. He just gives you this confidence that you can do anything," Taylor said.
Taylor also described Oesterle as "a collector of eclectic things." His office, for instance, was furnished with salvaged furniture rather than fresh-from-the-showroom pieces.
And when Angie's List discovered stray cats living in buildings the company had acquired, Taylor recalled, Oesterle would see that the cats received veterinary care, names and new "jobs" as indoor cats at Angie's List. "They were listed as employees on the employee network."
Oesterle's "eclectic things" also included an extensive collection of cars and motorcycles.
Professional IndyCar mechanic Anton Julian met Oesterle around 2010. Julian's wife at the time worked at Angie's List, the couple hosted parties each May around the Indianapolis 500, and Oesterle came as a guest.
Oesterle approached Julian, struck up a conversation around cars and the two became friends. Eventually Oesterle persuaded Julian to come work for him in 2015, managing a collection that at one time included 200 cars and 280 motorcycles.
Julian gave Oesterle the tongue-in-cheek name "The Tornado" because on visits to the garage, he'd come up with a big plan for working on the vehicles. The next week, he'd have a new plan.
"You've got to slow him down a little bit," Julian told IBJ earlier this month.
Julian also said Oesterle had an ability to mentally figure out mechanical problems—an uncommon ability for someone who's not a professional mechanic. "He would reverse-engineer stuff in his head."
More recently, Julian has been overseeing the sale of Oesterle's vehicle collection, which was down to fewer than 20 vehicles as of earlier this month.
Julian was also part of a group of male friends who took adventure trips with Oesterle, venturing everywhere from Peru to Mexico to New Zealand.
"Whenever we all get together on these trips it's like a group of 12-year-olds," Julian said with a laugh.
Oesterle was at the front of a revolt against the state GOP over the Religious Freedom Restoration Act—known as RFRA—which the Republican-led Legislature passed in 2015.
The law, signed by then-Gov. Mike Pence, aimed to give judges guidelines for protecting religious liberties in civil cases, but critics—including Oesterle—said the law would essentially authorize discrimination against the LGBT community.
Eventually, the Legislature amended the law to say it couldn't be used to permit discrimination, but Oesterle did not think that went far enough. He advocated for a full repeal.
Megan Robertson, a political and issue advocacy consultant, first met Oesterle around 2014, when Indiana legislators were mulling a constitutional amendment that would have prohibited same-sex marriage. Robertson and Oesterle were both opposed to such an amendment. (The proposed amendment never made it on the ballot, and same-sex marriage became legally recognized in Indiana in October 2014.)
"Bill was an ally of the LGBTQ community long before it was popular," Robertson told IBJ in an email.
Robertson, who is the founder of the firm FrontRunner Strategies, continued to work with Oesterle on LGBTQ-related issues. "He worked tirelessly to advance policies that would protect LGBTQ Hoosiers until the very end."
Oesterle is survived by his wife, Kristi, six children and three grandchildren. A celebration of his life is being planned for a later date.
Please enable JavaScript to view this content.