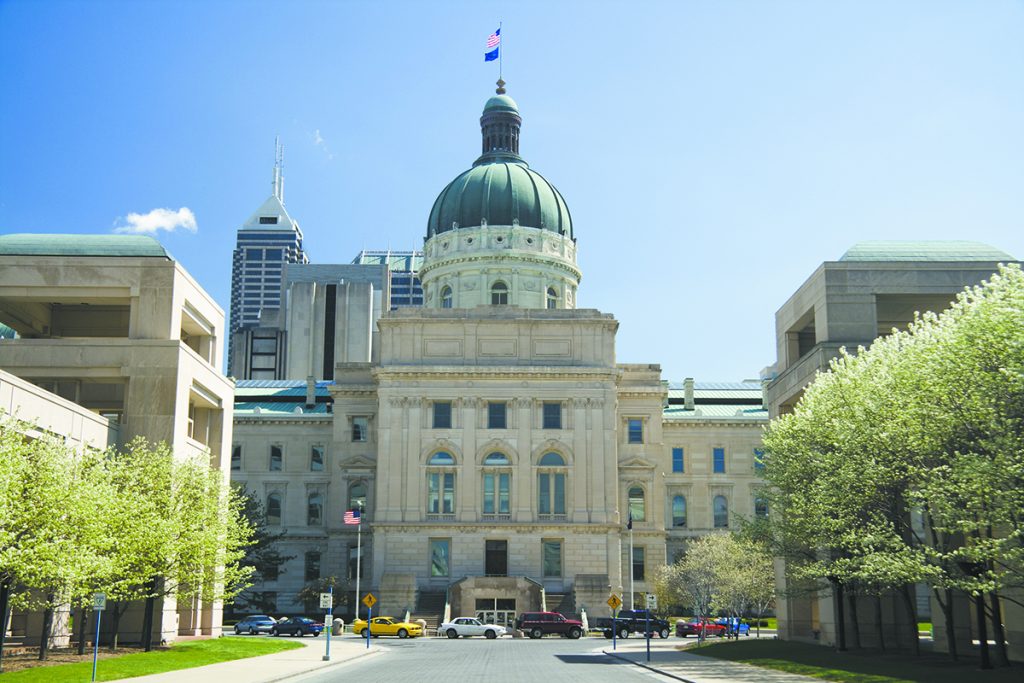 Lawmakers sent several bills to Indiana Gov. Eric Holcomb's desk on Monday following chamber actions on concurrence votes and conference committees.
By law, the General Assembly must conclude the legislative session by Saturday and finalize the state's two-year budget. Any bills that don't cross the finish line in the coming days will be dead for the year.
Health care bills going to Holcomb's desk
Hospitals systems will no longer be able to require non-compete agreements in their physician contracts–at least for primary care doctors.
Also on Monday, the House unanimously approved a bill establishing grant funding to implement the "science of reading" method of learning.
The opposing chamber added additional literacy language and removed the attached funding but bill author Rep. Jake Teshka, R-South Bend, said he believed it would be restored in the final budget.
"I believe the most consequential (bill this year) will be opening doors to Hoosiers through reading," Teshka said from the floor.
The bill passed 95-0.
The original bill, Senate Bill 7, included all physicians but was narrowed after pushback from health care system lobbyists who said it would hurt their retention of specialty doctors in rural areas.
Seven senators voted against it, five of whom serve on the Senate health committee, but it wasn't enough to defeat the measure. Physicians have lamented non-compete agreements for limiting where they can practice, even after they finish their contract with a health care system, saying it pushes doctors out of Indiana.
Another priority bill–this time from the House–survived despite seven 'no' votes and now moves to the governor's desk to potentially become law.
House Bill 1006 is designed to allow Hoosiers experiencing a mental health crisis to get treatment in a local hospital rather than in prison or jail. Currently, the Indiana Department of Correction is the state's largest mental health provider.
"(This bill is) trying to ensure that those who are mentally ill are not in our jails," Sen. Aaron Freeman, R-Indianapolis, said.
Previously the bill passed both chambers unanimously and the latest version–the results of a collaborative effort from representatives from both sides–passed the House without any opposition.
However, Sen. Greg Taylor had concerns about a recent language addition about cross examining doctors involved in evaluations and he–along with a bipartisan group of six other senators–voted against the bill.
"Millie's Law" is almost law
Both chambers on Monday approved a final version of legislation criminalizing non-consensual tracking, sending it to Holcomb. Lawmakers said they were inspired by an Indiana woman named Millie Parke, who was tracked and then violently attacked by an ex-boyfriend.
Senate Bill 1 adds planting a tracking device on someone or their property without consent to the definition of "unlawful surveillance," a Class A misdemeanor that can rise to a Level 6 felony in specific circumstances—in addition to several other related provisions.
The proposal previously survived repeated, lengthy debate over its details, including a list of exceptions: for law enforcement, incarcerated and convicted people, family members, property, car manufacturers and electronic communications companies.
Both chambers moved the finalized version—which contained minor technical changes—unanimously: the House, 92-0, and the Senate, 45-0.
Gas tax out following meeting
Though lawmakers held over two dozen conference committees, few lasted longer than five minutes, obscuring the behind-the-scenes negotiations. One exception was House Bill 1050.
Lawmakers briefly tucked a one-year extension of the annual one-penny gasoline tax hike inside the 90–page House Bill 1050. That increase usually brings in about $30 million annually.
On Monday, a conference committee said it planned to strip the provision back out—one of several changes mentioned.
Chair and bill author Jim Pressel, R-Rolling Prairie, said the final version would incorporate House Bill 1156, which contains other motor vehicle-related changes.
Language outlawing local ordinances—only in Indianapolis—that ban right turns on red lights remained. The provision has drawn outrage from pedestrian and cyclist safety advocates, as well as some state and local Democrats.
The Indiana Capital Chronicle is an independent, not-for-profit news organization that covers state government, policy and elections.
Please enable JavaScript to view this content.