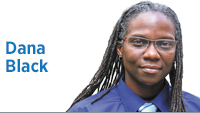 Gerrymander. Webster defines it as "to divide or arrange (a territorial unit) into election districts in a way that gives one political party and unfair advantage." Indiana exists in a severe state of gerrymandering.
Flashback to 2013: The Republican-controlled Indiana General Assembly passed Senate Enrolled Act 621, which re-drew city-county district lines in Marion County and eliminated the four at-large seats, all of which were held by Democrats. Apparently, the objective of the bill was to streamline Marion County government and grant greater budget control to the Mayor's Office.
After Gov. Mike Pence signed the law, Councilor Maggie Lewis tweeted she was "disappointed … . What was the point of having the 2011 elections? Results from Nov. 2011 just erased!"
The bill was written specifically for Marion County, which means the Indianapolis council would become Indiana's only city council without at-large council members. Some have suggested that's good because it fits the narrative of smaller government. But others have suggested it was another way to treat Indianapolis and its residents, who generally lean more Democratic, differently than the rest of the state—and thus was an attempted power grab by Republicans.
Add in the newly drawn lines gerrymandered by Republicans, and incumbent Democrats would have to compete against one another in contentious primaries—something that could have fractured the Marion County Democratic Party. With SB 621, Indianapolis was set for Republicans to take control of the City-County Council in the 2015 elections.
Despite those efforts, when the 2015 election rolled around, the plan wasn't successful. Democrats maintained control of the council with a slim 13-12 edge. Along with the election of Mayor Joe Hogsett over Republican Chuck Brewer, this became only the second time in Indianapolis history that Democrats controlled both the Mayor's Office and the council.
Fast forward to election night 2019, when the assumed GOP power grab completely collapsed. Democrats flipped six Republican-held seats, giving Democrats a 4-to-1 advantage. By the way, the mayor's race wasn't even close, with Hogsett winning 71.5% of the electorate over Republican Sen. Jim Merritt. Democrats took complete control of Indianapolis and Marion County's government with a map drawn by Republicans. Democrats proved working hard on campaigns and speaking to the issues concerning voters is more important than how lines are drawn.
Who saw Minority Leader Michael J. McQuillen losing to an unknown, up-and-coming millennial, Ethan Evans? Who predicted the entire Geist area, a Republican stronghold, would go to Democrats with the elections of both Evans and Ali Brown? And what about Kristen Jones, Sen. J.D. Ford's campaign manager, winning on the southwest side? These first-time candidates put in the work and it paid off.
What is most interesting? South-side residents complain about the lack of attention from local leaders, yet they continue to elect the same folks who are charged with bringing their issues to light. With only five Republicans on the council, those residents must now hope Democrats will be better than the supermajority in the Statehouse and entertain proposals by the council's minority.
Across the country, both parties are guilty of partisan gerrymandering to the detriment of the voter. It is time to end this practice of candidates selecting their voters. It is time for candidates to earn votes and let their policies stand or fall as they are presented to constituents. It is time for Indiana General Assembly candidates to be brave and compete on their ability to represent their districts and Hoosiers.•
__________
Black is deputy chairwoman for engagement for the Indiana Democratic Party and a former candidate for the Indiana House. Send comments to [email protected]

Click here for more Forefront columns.
Please enable JavaScript to view this content.