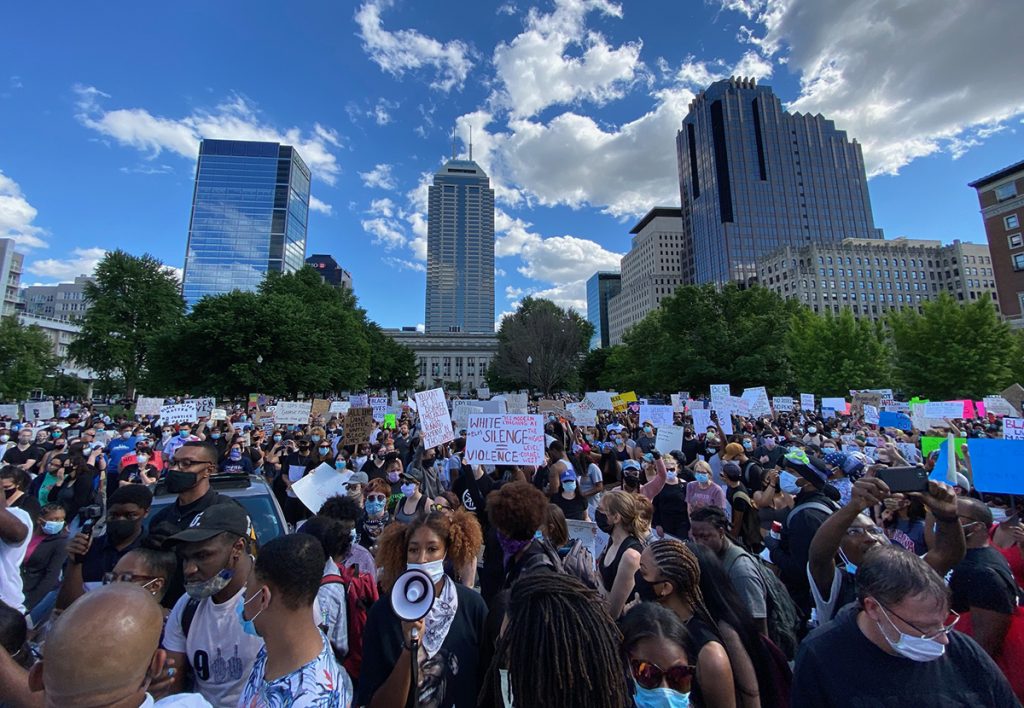 Protesters who demonstrated against police brutality late last month have sued the city of Indianapolis over use of tear gas, pepper balls and flash grenades by police handling crowd control during the demonstrations.
The American Civil Liberties Union of Indiana filed the lawsuit Thursday in the U.S. District Court for the Southern District of Indiana on behalf of Indy10 Black Lives Matter and three individuals.
The lawsuit says protesters were met with "violent responses" while engaging in peaceful protests, violating both the First and Fourth amendments.
The suit calls for the Indianapolis Metropolitan Police Department to immediately stop using chemical agents and projectiles on protestors.
"Excessive use of force against protesters chills free speech and widens the rift of distrust between communities and the police that are sworn to serve them," Ken Falk, legal director at the ACLU of Indiana, said in written comments. "Indianapolis should instead listen to demonstrators, build community trust, and transform policing and the criminal legal system."
The lawsuit seeks declaratory and injunctive relief to ensure that the constitutional violations are not repeated, and the individual plaintiffs seek damages.
"The plaintiffs wish to continue to engage in their constitutional right of assembly and protest, but they justifiably fear a repetition of the improper behavior that was previously directed toward them by police authorities," the lawsuit reads.
The lawsuit comes after IMPD deployed chemical irritants and used rubber bullets and batons against protestors downtown May 29-May 31. The ACLU says the protests were marred by IMPD officers who took violent and unwarranted actions against peaceful protestors who were not engaged in any unlawful activity.
The lawsuit is one of a number of legal actions the ACLU has taken around the country in response to escalating law enforcement incidents involving journalists and protesters. One suit targets President Donald Trump and other administration officials for firing of tear gas on protesters outside the White House on June 1.
The local lawsuit states that Indy10 BLM has had to expend scarce resources to prepare for police violence at protests by buying medical supplies and by spending time in obtaining donated supplies, causing the organization to divert money and time away from its overall mission. Indy10 BLM also said in the suit that fewer people are attending demonstrations because of the police behavior, hurting the organization's ability to spread its message.
"Born out of frustration, grief and rage, demonstrations in Indianapolis have amplified the voices of the community and the demands of the brokenhearted: for police to stop weaponizing their badges and budgets against black people, and for the city of Indianapolis to defund the police force and reinvest in its residents," Indy Black Lives Matter said in a statement. "The onus for repairing harm is on city leadership and IMPD, and they would do well to lending their efforts toward policy reform and addressing the use of force policies as well as holding officers accountable."
The city's Office of Corporation Counsel declined to comment on the lawsuit "out of respect for the judicial process."
Please enable JavaScript to view this content.