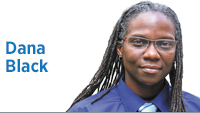 I'm confused and getting whiplash trying to keep track of what the GOP considers individual liberties and parental rights and what is considered government overreach. The one thing that is very clear, many Republicans are deathly afraid of children. Not just any children, but children in a specific demographic. Our transgender children. If it is not fear then explain why the nation's GOP leaders continue crafting laws across the country to marginalize and dehumanize their existence?
Bills like House Bill 1041, if signed by Gov. Holcomb, prevent transgender girls of taxpaying parents from participating in sports. The bill is cruel because Indiana would codify second-class citizenry to transgender girls. The IHSAA already has a policy covering transgender student athletes and said it has had no transgender girls finalize a request to play on a girls team. But what did that matter?
In a statement of principles and positions from the Republican Liberty Caucus, they state: The Republican Liberty Caucus supports individual rights, limited government and free enterprise. We believe every human being is endowed by nature with inherent rights to life, liberty and property that are properly secured by law. We support a strict construction of the Bill of Rights as a defense against tyranny; the expansion of those rights to all voluntary consensual conduct under the Ninth and Tenth Amendments; and the requirements of equal protection and due process under the Fourteenth Amendment.
As my mama used to say, actions speak louder than words. When many Republicans refuse to learn what they don't understand about our transgender youth and the decisions being made by their parents, then all that limited government, individual liberty and parental rights stuff gets tossed out the window.
Then when laws can't get through the legislative process, they just write discriminatory executive orders. As NPR reported, Texas Gov. Greg Abbott has directed the state's Department of Family and Protective Services to investigate certain gender-affirming care as possible child abuse. This would include things like hormones or puberty blockers and not surgery. Studies have shown gender-affirming care, along with adding social and familial support, reduces suicide ideation and attempts in transgender individuals. A parent, with all of the rights afforded to them to decide other health care decisions for their children, painstakingly weighs all of their options. In many cases the agonizing choice is either selecting gender-affirming care or potentially not having their child alive. Abbott, in one executive order, strips parental rights and puts the child's life in jeopardy.
For the past two years, Republicans have lost their collective minds over what they deemed government overreach to require masks be worn by children while in public. The requirement was an attempt to reduce the risk of infecting immunocompromised humans from COVID-19 which could have killed them. Yet now members of this same party are quick to prosecute parents for doing everything they know to do to protect the life of their child. As published by the New York Times, Texas officials have begun investigating parents of transgender youth for possible child abuse because they provided the necessary medical care for their children. The governor is perfectly comfortable with labeling loving parents as criminals by defining gender-affirming care as a possible crime.
All these parents want to do is love their children, accept them for who they are and help them be productive citizens. But like other authoritarian leaders, Abbott has concluded transgender children and their parents deserve neither individual liberty or parental rights.•
__________
Black is former deputy chairwoman for engagement for the Indiana Democratic Party and a former candidate for the Indiana House. Send comments to ibjedit@ibj.com.

Click here for more Forefront columns.
Please enable JavaScript to view this content.