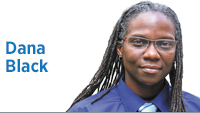 I was listening to MSNBC's "Morning Joe" on a Monday morning and a Republican strategist discussed the desire to remove President Trump from office. They were discussing how ex-Republicans are looking to help make a change in the 2020 election. Host Joe Scarborough commented that when he was running for office as a Republican, he didn't just want to get 51% of the vote, he wanted to crush his opponents to the point they would be embarrassed to walk down the street. The strategist said that Republicans used any tactic necessary to beat Democrats including creating divisions over social and racial issues. They knew they could win if they generated feelings of fear and anger. The biggest take away from the discussion: Democrats aren't grimy enough to win.
I found this conversation interesting, not because I learned something new about the Republican Party, but because they were openly admitting they used divisive tactics to elicit negative emotional responses from voters, while at the same time suggesting Democrats were insane for pointing out it was happening. As a party, Republicans confessed they have been stroking the racist and divisive fiber of our nation to help win elections, but now that they can no longer control the outcome, they want to give their divisive playbook to Democrats to win elections.
This is extremely bothersome. It is apparent by this conversation that many conservative Republicans discarded their integrity decades ago while slowly bringing the religious right with them.
I would suggest that we as a nation and state haven't lost our way—we started out on the wrong path. The sad part: The American people are ready to entrust governing our nation to elected officials who are eager to use negativity instead of honor, dignity, integrity and respect to win elections. As I look out over our political landscape, it appears those attributes are missing from many—and not just on the right. There are more than a few Democrats who fit in this group.
If I were a candidate, I wouldn't want to win a campaign because I created fear and anger. I would want to win because I generated optimism and aspirations. I would want to win because I offered policy solutions to problems that impact the people who contribute daily to the progress of our state and nation. I would want to win because I was able to persuade Hoosiers that although successful businesses are important, there would be someone looking out for them more than they are looking out for profits, that their lives are worth more than the bottom line on a financial statement. I would want to win because under my leadership, all Hoosiers felt they had an opportunity to be their supreme selves.
Oh, and I would also let them know I did study in school and I understand how the government works.
No matter where you fall on the political spectrum, we should demand greater accountability from those who have been granted the privilege of leading our nation and state. As voters, it is our responsibility to look beyond the shiny façade, dig deeper and require more. Purposefully and gleefully admitting dividing our nation to win an election as a successful strategy is one of the saddest truths we must contend with. Unfortunately, there are too many selfish people who aren't interested in doing what is right for the nation, but they are only doing what it takes to win the current election, regardless of the damage left behind.•
__________
Black is deputy chairwoman for engagement for the Indiana Democratic Party and a former candidate for the Indiana House. Send comments to ibjedit@ibj.com.

Click here for more Forefront columns.
Please enable JavaScript to view this content.