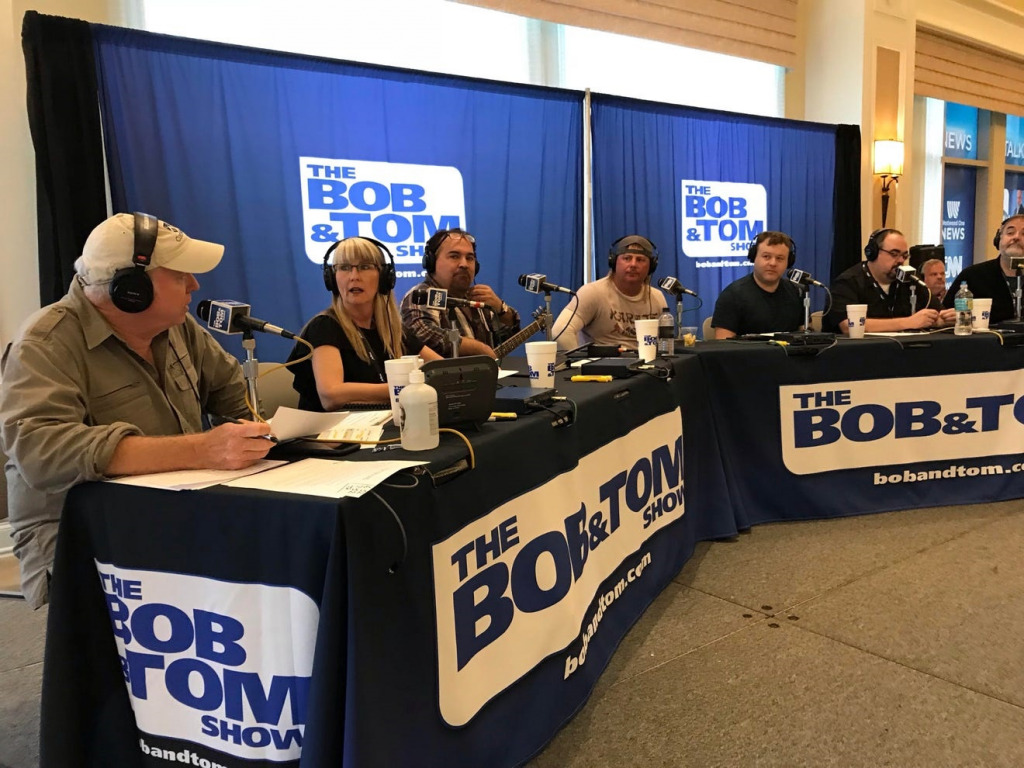 A 40th anniversary for "The Bob & Tom Show" appears likely following the radio show's announcement of a contract extension with 18 stations owned by Cumulus Media.
Syndicated on more than 100 stations overall, the comedy-focused morning show debuted on its Indianapolis flagship station, WFBQ-FM 94.7, on March 7, 1983.
Although details of the agreement with the Cumulus Media stations weren't revealed, a release by Dollinger Strategic Communication described the renewal as a "long-term deal." The show would reach the 40-year mark in 2023.
The contract extension announced Monday applies to six stations that have aired "Bob & Tom" for at least 20 years: WOFX-FM in Cincinnati; WGLO-FM in Peoria, Illinois; KHKK-FM in Modesto, California; WILZ-FM in Saginaw, Michigan; KKGL-FM in Boise, Idaho; and WQHZ-FM in Erie, Pennsylvania. A new affiliate station, KXHS-FM in Abilene, Texas, also was announced.
"The Bob & Tom Show" is distributed by Westwood One, a syndication company owned by Cumulus Media. Atlanta-based Cumulus Media owns six radio stations in Indianapolis: WJJK-FM 104.5, WFMS-FM 95.5, WZPL-FM 99.5, WNTR-FM 107.9, WNDX-FM 93.9 and WXNT-AM 1430.
Indianapolis listeners will continue to find "Bob & Tom" on WFBQ, a show-and-station alliance that's continued since "Bob & Tom" switched syndication companies in 2014 from Premiere Networks to Westwood One (known then as Cumulus Media Networks).
WFBQ, part of the iHeartRadio network, ranked No. 8 among central Indiana's most popular stations in September, according to Nielsen rankings for listeners of all ages. Fellow classic rock station WJJK ranked No. 1.
"Bob & Tom" host Tom Griswold has appeared on the show since its 1983 launch. Co-host Bob Kevoian retired in 2015, shortly after he and Griswold were inducted into the National Radio Hall of Fame. Griswold, 68, missed some work this summer while recuperating from heart valve replacement surgery.
The present cast of "The Bob & Tom Show" includes Griswold, Chick McGee, Kristi Lee, Josh Arnold, Ace Cosby, Pat Godwin and Willie Griswold.
Please enable JavaScript to view this content.