A common misperception is to characterize a free market as one where businesses are "unbridled" and can do "whatever they please" in pursuit of profits. Advocates of free markets from Adam Smith to Milton Friedman have made it clear this is not the case.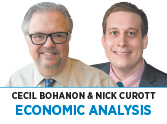 Central to all legitimate versions of a free market is a well-functioning government that protects private property and ensures a competitor's right to free entry. Interestingly, American gangster movies—specifically a recent film of the genre, Netflix's "The Irishman"—are fertile ground for understanding the nature of free and not-so-free markets.
Within the first 30 minutes of "The Irishman," its protagonist, the anti-hero Frank Sheeran, played by Robert De Niro, takes a job to firebomb the Cadillac Linen Service. His employer, "Whispers" DiTullio, is aggrieved that Cadillac entered the market in competition with DiTullio's linen company.
Violence against competitors has been a tried-and-true tactic of predatory monopolists throughout history. It is also the antithesis of a free market. A free market assumes the explicit job of the state is precisely to prevent and punish such rapacious crimes. Indeed, gangsters like Sheeran and DiTullio are either in jail, or better yet, so afraid of legal authority they refrain from such actions.
The movie also illustrates another corruption of a free market: violence empowered by state sanction. In this scene, Sheeran goes to Chicago at the behest of Teamster President Jimmy Hoffa and blows up a fleet of cars owned by a competing taxi firm. He is assured the Chicago police, beholden to Hoffa, will do nothing to stop the mayhem. Again, gangster corruption of government greased by bribes to government officials is the antithesis of a free market.
Some on the far edges of the left insist "mafia capitalism" is the standard way of doing business in the United States. We disagree. The bankruptcy of the Marsh grocery store chain in central Indiana facilitated a number of new entries to the local grocery market. We know of no cases of fire-bombings of these new entrants. We do not observe Budweiser trucks machine-gunning rival Miller beer trucks in today's beer market, although such violence was common when alcohol was illegal 100 years ago. Free markets are possible if not perfect. And they are, by definition, characterized by a rule of law that protects private property rights and the free entry of competitors into markets.•
_________
Bohanon and Curott are professors of economics at Ball State University. Send comments to [email protected]
Please enable JavaScript to view this content.