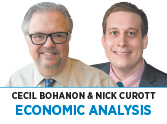 When can we reopen the economy? This is the wrong question. The economy is not a machine that can be turned on or off. It is not as if President Trump, nor even Dr. Anthony Fauci, can declare, "OK, on May 17, it's all over—everyone go back to work." Rather, an economy is networks of relationships. And almost across the board, these relationships have been suspended, severed or radically modified because of COVID-19. The economic harm is obvious.
Many of these modifications have been voluntary. Churches canceled public worship services, civic clubs stopped meeting, schools closed, and numerous businesses locked down before the state mandated such action. In enterprises that are still allowed to function on some level, relationships are changed. Workers have been furloughed or asked to take pay cuts. If nothing else, social distancing rules raise the costs of operation. Some sectors are expanding, to be sure, but those are mostly where the risks of contracting the COVID-19 virus are elevated.
Restrictions vary by country. In late March, Jordan mandated a very strict stay-at-home rule. If you were on the streets, you were arrested. It's been relaxed. Sweden, however, is still allowing restaurants to serve sit-down customers. Some cities in our country are requiring everyone to wear a mask outside; others are using drones to harass folks who are not social distancing. Restrictions and actual practices in the United States vary state-to-state and even county-to county.
The conventional wisdom, which is probably right, says, the longer these restrictions are in place and the more stringent they are, the fewer deaths that will occur from the virus. It also tells us, the longer these restrictions are in place and the more stringent they are, the more damage that will come from disrupted economic relationships. To pretend there is no trade-off is foolish.
So, the question is, when should particular restrictions be lifted? When the benefits of ending the restrictions exceed the costs. However, there is no foolproof way to know when that is the case. And make no mistake, mistakes will be made. Neither epidemiologists nor governing authorities have a perfect crystal ball. There is still much we don't know about the coronavirus or how an unregulated public will act.
Unfortunately, this means the economy is in for a bumpy ride. There will be no easy return to "normal," but with a little luck, recovery might begin sooner rather than later.•
__________
Bohanon and Curott are professors of economics at Ball State University. Send comments to ibjedit@ibj.com.
Please enable JavaScript to view this content.