We economists do our best to measure changes in the cost-of-living over time. Yet we suspect that many components are difficult to capture in statistics. Here is an interesting example.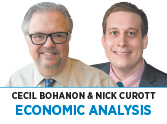 In the spring of 1920, Cornell University botany professor M.F. Barrus took a sabbatical to sunny Southern California with his family in tow. They arrived by rail but returned by automobile. The good professor paid $1,000 for a used, 1916 Oldsmobile with just under 5,000 miles, a V-8 engine and Houck wire wheels. The family kept meticulous records of their trip back to Ithaca, New York, reporting they spent $454.94 on auto-related expenses. The Consumer Price Index indicates that's about $5,597 in today's dollars. And, of course, that does not include the automobile's depreciation.
Gas alone was a huge expense. In New Mexico, for example, the Barrus family paid 60 cents a gallon, or around $7.38 in today's dollars.
Today's travel distance between Pasadena, California, and Ithaca, New York, by car is 2,664 miles. Using the 2020 IRS rate of 57.5 cents per mile, which includes depreciation, yields a cost of $1,532 for the trip in 2020. This is a 73% decline from the 1920 cost. The decline would be even steeper had the Barrus family's records included depreciation.
But today's cheaper trip is just part of the story. It would also be a much easier trip.
Although a car with 5,000 miles might see a tire blow out today on a cross country trip, tire loss was a routine part of long-distance travel in 1920. All four tires had to be replaced before the family reached Colorado, and yet again before they arrived in New York.
Today, travel sites estimate the driving time between the two locations is 39 hours. Split into comfortable eight-hour segments, our 2020 travelers would arrive in Ithaca five days after leaving California. The Barrus family, on the other hand, spent 46 days traveling, not counting an additional nine days spent fixing the car, seeing the sights and visiting friends.
Professor Barrus replaced 160 wheel-spokes himself and managed to break his thumb installing new rear springs on the car. The car made it to Ithaca but finally gave up the ghost a few years later after only
20,000 miles.
The 73% decrease in the inflation-adjusted cost of the cross-country trip understates how much life has improved over the century. Product quality improvement makes life safer and more convenient and
that's hard to quantify—but very, very real!•
__________
Bohanon and Curott are professors of economics at Ball State University. Send comments to [email protected]
Please enable JavaScript to view this content.