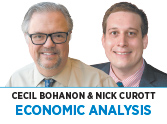 Economists report the facts. However, the economic way of thinking often provides context that illuminates those facts.
Since the advent of COVID-19, the facts of the American labor market have been all over the board. As of October, total employment was 154 million, which is below the near all-time high of 158.7 million in December 2019. It ends up that 4-1/2 million workers are "missing." There is a great deal of speculation as to why. Let's examine one narrative about the so-called "great resignation."
American family: Mom, Dad—both full-time workers—two school-age children. In December 2019, the family earned $95,000 a year. Pre-pandemic, they ate out a lot and took several trips a year to Florida theme parks. They could afford this from the income Mom and Dad made working full time.
Then the COVID lockdown. All four are relegated to home. Savings, government transfer and at-home work options mitigate the difficult circumstances. But they also ate out much less and totally curtailed the Florida trips. The family substituted in-home meals and household-based family activities.
Fast-forward to November 2021. Mom and Dad can revert to the December 2019 status quo but choose not to. One of the parents stays at home. The family's earned income declines to $60,000 a year.
Do economists deem the economy "worse off" because of this choice? It might surprise many, but we don't and we don't know of any economists who do. When the option for full-time work resurfaced, the family decided otherwise. While their monetary income declines, they find the one parent freed from the workplace more than compensates for the forgone income.
The economic principle of revealed preference comes into play: what people do reveals their preferences. In the family's own estimation, they are better off! Although earned income might go down, no reasonably well-trained economist deems this choice to be somehow "incorrect" or "bad."
Alas! Economists are often deemed to be philistines who think it is all about dollars and cents. But not so. Economists have recognized for at least 150 years that income and time free from paid work are both good things. It's a tradeoff best left to households to decide.
Is this narrative the definitive explanation for the so-called "great resignation?" We don't yet know—but if it is, economists see no harm. The economic way of thinking respects households' freely made choices.•
__________
Bohanon and Curott are professors of economics at Ball State University. Send comments to ibjedit@ibj.com.
Please enable JavaScript to view this content.