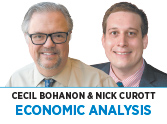 Many pundits argue a free market in health care is simply not possible. But don't tell that to Dr. Keith Smith, who gave the Van Cott Lecture at Ball State University in October titled, "The Power and Beauty of a Medical Free Market."
Smith, a board-certified anesthesiologist, didn't offer a host of theoretical reasons why free markets work in medicine. Rather, he outlined his experience providing free-market health care over the past 23 years at a physician-owned, outpatient surgery center in Oklahoma City.
The Oklahoma Surgery Center, known as OSC, does not accept third-party payments from public or private insurance. As recently as 1960, out-of-pocket payments accounted for 55% of all payments for personal health care in this country; by 2018, it had declined to 12%. The dominance of third-party payments has generated a system that hardly resembles a free market. Indeed, Smith describes today's health care as an "American health cartel [in a] cozy relationship with Uncle Sam."
OSC's first patient was a woman with no insurance who wanted a breast mass removed. The local hospital asked $19,000 for the facility fee alone. OSC did the surgery, including a pathology report, for a flat $1,900. Smith noted, "I knew we were on the right track when, after the case and the supply cost was tallied, we'd made a profit."
To no surprise, the incumbent hospital industry went after OSC—not by matching its prices and services, but by lobbying the state legislature to ban physician-owned facilities. Fortunately, these and other lobbying efforts by the big hospitals were unsuccessful.
Many with high-deductible insurance policies found OCS care costs less than their deductible and co-pay at in-network area hospitals. OSC was almost wrecked when insurance carriers were persuaded to impose deductible stacking—meaning patient out-of-pocket expenditures at OCS did not count against their insurance deductible. But OSC rejuvenated itself when it started posting its prices online. This attracted Canadian customers, supposedly covered by their single-payer national plan, who had waited two years for procedures such as a hysterectomy to stop blood loss "so severe that intermittent transfusions were required."
As Smith opined, "Millions of Canadians traveling to the United States have discovered that the only single payer upon which they can truly rely is themselves."
It is refreshing to see entrepreneurs providing quality care and visible pricing in an industry marred by inefficiency and government overreach. You can view the entire lecture on YouTube.•
__________
Bohanon and Curott are professors of economics at Ball State University. Send comments to ibjedit@ibj.com.
Please enable JavaScript to view this content.