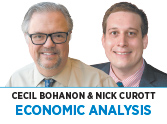 In October, Economist magazine ran a very brief story on a dozen new COVID infections in the port tourist city of Qingdao, China. Discovered on the 11th of the month, city officials quickly declared their intention to test all residents within five days. Qingdao's population of 11 million is more than the entire Chicago metropolitan area, which includes parts of Indiana and Wisconsin.
A few days later, Chinese news sources reported that more than 4,000 testing locations had been set up in Qingdao, staffed by more than 10,000 medical personnel. By 2 p.m. on the 17th, 11 million people had been tested, and no positive cases were reported. The COVID virus was contained.
This rapid and comprehensive response to a small COVID outbreak is impressive. It is hard to imagine it being replicated anywhere in the United States. But before we go pining for our government to emulate the Chinese, we should note the very next story in the Economist: the forced detention of over 1 million ethnic Uyghurs in China.
The Uyghurs are an ethnic group of 13 million, who live primarily in the Xinjiang Province of northwestern China. They speak a Turkic language unrelated to Mandarin Chinese and are overwhelmingly Muslims.
It has been estimated that one in 10 adult Uyghurs have been sent to "re-education camps" for "crimes," such as practicing their religious faith or making contact with relatives working outside China. Indeed, former camp prisoners report being beaten for answering yes to the question of whether they believe in God. Children of detainees are sent to state boarding schools where they are prohibited from speaking their native language. The Chinese government policy seems clearly directed at coercing the Uyghurs to adopt the language and customs of the Mandarin-speaking Han majority.
The government of China can accomplish both five-day testing and mass detention because it maintains a pervasive, universal and unchecked system of surveillance on all its residents. Facial recognition technology allows the government to keep tabs on everyone. All residents are required to install a "green code health app" on their cell phone. Failure to comply or be designated green denies one access to public buildings and public transit.
This makes testing millions of people at the drop of a hat an easy task. But such universal tracking and surveillance allows the government to imprison millions without trial or legal recourse.
We doubt that's a price Americans are willing to pay.•
__________
Bohanon and Curott are professors of economics at Ball State University. Send comments to ibjedit@ibj.com.
Please enable JavaScript to view this content.