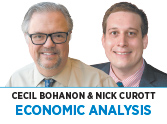 Indiana has many hidden treasures. One of them is the Indianapolis-based Remnant Trust. Founded in 1997, the trust owns and maintains a collection of over 1,500 first or early editions of great books and manuscripts, mostly published before 1900. The managers of the trust believe these documents should be viewed by the general public, not just by elite scholars. To that end, they frequently sponsor public exhibits of portions of the collection.
The books and manuscripts are of great interest to economists as they include first-edition works of Karl Marx and Adam Smith, as well as those of lesser-known economists such as Jean-Baptiste Say and Henry George. A few years ago, Ball State University enjoyed a display of first editions of the works of 18th century Enlightenment writers. The economics department parlayed it into a student-led film project on the Scottish Enlightenment.
This month, the trust displayed selected works in conjunction with inviting speaker and activist Robert Woodson Sr. to Indianapolis. Woodson is a spry, 85-year veteran of the Civil Rights movement and founder of the Washington, D.C., based Woodson Center. Its self-described mission is to support "community-based leaders who are solving America's most challenging social problems from the ground up." In a nutshell, it seeks out and supports local people who are working to solve local problems using local knowledge. It eschews giving "expert" advice or imposing top-down solutions.
Woodson's keynote last week in Indianapolis accompanied the Remnant Trust's display of first-edition works of Frederick Douglass, W.E.B. Du Bois and Booker T. Washington. Students from Ball State, Indiana State and other schools were allowed to view and handle the manuscripts. They also fed on Woodson's wisdom.
One of the most poignant issues Woodson discussed was the tragedy of a parent losing a teen. His organization supports autonomous local groups helping grieving mothers in low-income Black communities where teens have fallen victim to gun violence. But Woodson is quick to point out that such tragedies are not respecters of race or class. Poor, white mothers in Appalachia have lost teens to opioid addiction. Well-to-do, highly educated moms in Silicon Valley lose their teens to suicide at a rate six times the national average. The Woodson programs support autonomous groups in all three communities and facilitate interaction among them.
The work heals, repairs and unites. An inspiring vision for challenging times. And a good fit with the Remnant Trust's collection of wisdom from the ages. Hidden treasures are everywhere.•
__________
Bohanon and Curott are professors of economics at Ball State University. Send comments to ibjedit@ibj.com.
Please enable JavaScript to view this content.