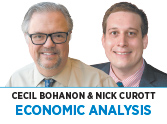 One of the advantages of being an American is that our currency, the USA dollar, is the world's premier reserve currency. Transactions between non-U.S. residents routinely occur in dollars. Central banks around the world hold most of their reserves in USA dollars. Corporate and government bonds issued outside the United States are typically payable in dollars.
This confers advantages to Americans. Sixty percent of all $100 bills ever issued are outside the United States, and most will never return. Americans used those bills to buy $100 worth of foreign goods and services. Yet the cost of printing them is around 14 cents. Pretty good deal! Unlike their foreign competitors, U.S. firms sell in USA dollars and buy domestic inputs in USA dollars. Foreign competitors, on the other hand, must sell on the world market in USA dollars but have to pay for their domestic inputs in their local currency. This exposes them to much more exchange-rate risk than their American counterparts face.
In the 1960s, the French finance minister Valery Giscard d'Estaing proclaimed USA dollar supremacy to be an "exorbitant privilege." And he was right. The post-World War II finance system gave the dollar special status. Despite Richard Nixon's ending the dollar's convertibility into gold, despite the decline of the United States' share of world exports, and despite the instability generated in the world economy from the United States' 2008 financial crisis, the dollar reigns supreme.
The Russian crisis might change this. Cutting off Russia's access to USA dollar payment systems imposes crippling sanctions on Russia. That's good. But it also gives the Russians, and more important, other nations, a strong reason to seek out alternatives to the USA dollar. One of the reasons the USA dollar has remained a reserve currency for so long is, it has always been fully convertible. Foreigners can always cash in their dollars. So, when the U.S. government "weaponizes" the dollar, the certainty of dollar redeemability is eroded, as is its desirability as a currency.
We probably will not see the dollar crash, nor wholesale abandonment of the dollar. Our exorbitant privilege is likely to end—or more precisely, decline—with a whimper, not a bang. Nor will the impact be that dramatic. We can think of about 30 other things more important to the future living standard of the average American than whether the dollar reigns supreme in world markets.
Yet, we are likely seeing the beginning of the end of an era.•
__________
Bohanon and Curott are professors of economics at Ball State University. Send comments to ibjedit@ibj.com.
Please enable JavaScript to view this content.