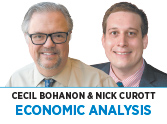 The traditional job of the economist is to identify the best means of attaining a desired end.
Give the economist a desired end, the economist outlines the costs and benefits of various approaches to accomplish that end. If the desired end is to reduce the use of fossil fuels, it is not the job of the economist to assess the science of climate change. But he can contrast policy options.
To reduce the use of fossil fuels, it is rather obvious current users will have to find substitutes for its current uses.
What policy gives users the best incentives to develop and adopt those substitutes?
One policy is to use the price mechanism by imposing a carbon tax. This gives fossil fuel users an incentive to discover the substitutions most viable and effective for them.
An alternative approach is regulation which indiscriminately prohibits certain fossil fuel uses and imposes specific substitutions on all users in a one-size-fits-all mandate. Most economists agree the price approach is much more effective than a cumbersome regulatory process.
Indeed, in January 2019, 46 prominent economists including 27 Nobel prize laureates called for a national carbon tax to reduce fossil fuel dependence.
In their words: "A carbon tax offers the most cost-effective lever to reduce carbon emissions at the scale and speed that is necessary. By correcting a well-known market failure, a carbon tax will send a powerful price signal that harnesses the invisible hand of the marketplace to steer economic actors towards a low-carbon future."
A lot has happened in the oil market since 2019. The price of oil has roughly doubled. The Russian invasion of Ukraine has, in effect, imposed a carbon tax on the West. Far from embracing the price hike even the greenest of the green members of the political class denounce it.
For most voters the dangers of future climate change pale in comparison to current $5-a-gallon gasoline and $100-per-tank fill-ups. As our friend, George Mason University economist Pete Boettke, points out: "There is no such thing as economic policy abstracted from politics."
Euclid, the father of geometry is purported to have told King Ptolemy there was no royal road to learning geometry. He meant learning geometry is hard work. One has to bear significant costs to attain the end.
In a similar vein we suspect there is no easy or costless way to kick the fossil fuel habit.•
__________
Bohanon and Curott are professors of economics at Ball State University. Send comments to ibjedit@ibj.com.
Please enable JavaScript to view this content.