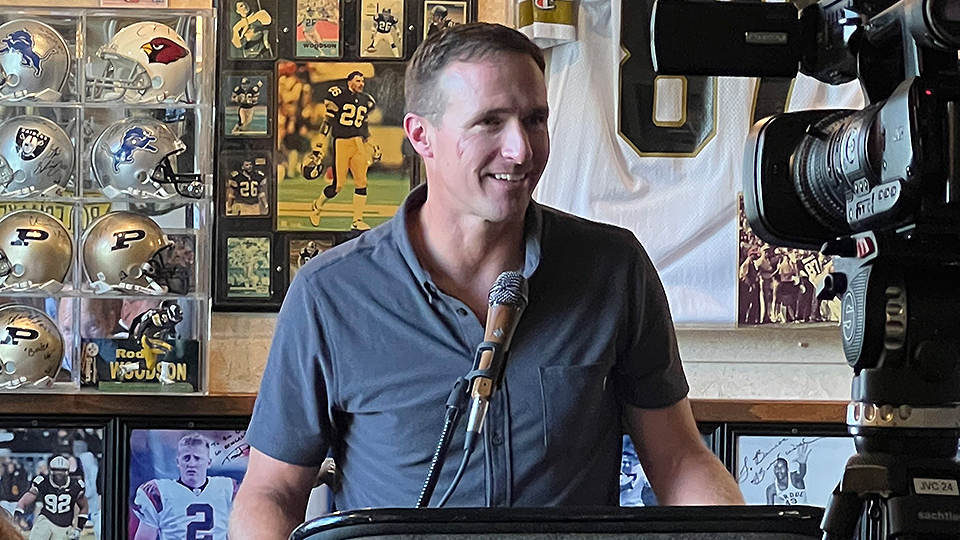 The not-for-profit designed to help Purdue University student-athletes use their name, image and likeness to boost charitable organizations announced Thursday it is expanding its scope. Boilermaker Alliance said it will now provide its services to all of Purdue's 385 scholarship student-athletes.
Additionally, former Purdue quarterback and Super Bowl champion Drew Brees is joining the organization's executive board.
During a news conference, Brees said the program is about more than athletics.
"To me, the Boilermaker Alliance and this program [are] about character development," he said. "It's about leadership development. It's about education, financial education. It's about putting them in a position where not only can they support foundations, causes, charities that are important to them and the impact it will have for those groups and those people but also for themselves."
Boilermaker Alliance was founded earlier this year and is not directly affiliated with Purdue University.
The organization says it works with student athletes who choose a charitable organization to support and helps them amplify those charities through special appearances, autograph signings, mentoring kids, managing camps and clinics, and appearing at charity events.
In addition to the scholarship athletes, the program will also be available to the entire Purdue football and men's basketball teams. However, President Jeff McKean said including student-athletes from all sports allows Purdue to stand out from other universities that only focus on "revenue sports" when it comes to NIL initiatives.
"This is something, to our knowledge, has not been done by any other group like us, but from the day we started, we recognized the importance of including all our athletes," said McKean. "The athletes in the other sports bring so much to our university. We look at the Olympic athletes we've had…[they're] great examples of what we want Purdue to be."
The organization said it plans to raise $6 million annually for a fund, from which the student-athletes will be compensated under the Indianapolis-based NCAA's new NIL rules.
McKean says Brees is the most qualified person to help lead an NIL organization for any university.
"He is the perfect fit for Boilermaker Alliance and we are confident his presence will amplify the reputation of our organization," said McKean. "This is a new age in collegiate athletics and we know our expansion to all 385 student-athletes on scholarship is unprecedented. We aim to be a leader in this space for years to come."
In addition to serving on the executive board, Brees will chair the nonprofit's advisory board, which is also comprised of former Purdue athletes Akin Ayodele, Rapheal Davis, Jim Everett, Nick Hardwick, Robbie Hummel, Matt Light, Cuonzo Martin, Shaun Phillips, Pete Quinn, Bobby Riddell and Adam Schenk.
Please enable JavaScript to view this content.