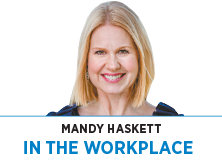 Couple more than a year of pent-up demand with trillions of dollars in government support, and our economy could be positioned to grow at its fastest pace in decades. Experts predict a boom. While economists are still debating the predicted effects of the forthcoming boom, leaders should be getting ready for what it might mean for the talent pool.
It was tough to find talent before the pandemic, with the unemployment rate at record lows. And a shallow talent pool was becoming shallower by additional realities—five generations working side by side, masses of retiring baby boomers, and middle-managers not yet ready to step into leadership roles.
After the talent displacement of 2020, we're beginning to see unemployment numbers drop again. Predictably, a boom will stimulate even more demand for top talent as businesses reopen, capacity swells and seasons change.
So, if you weren't fighting for top talent before the pandemic, I predict you will be very soon.
After 2020, here's what we know to be top-of-mind for talented candidates as the grass grows greener: your culture. Pervading interview bays everywhere, we hear one question: "What's the culture like here?"
In this post-office-centric world, organizational culture requires renewed vigilance. Not only because culture can slip into abstraction when teams are remote, but also because your culture might be the deciding factor for incoming top talent (they'll have a choice where they take their valuable contributions).
Here's how to shore up your post-pandemic culture:
Revisit your core values
The foundation of your culture (whether you know it or not) is constructed with your core values. Our values surface in every decision we make—the way we spend money, what we deem worthy of our time, and the way we care for one another.
Values create direction and choice. They're like a GPS system for our energy. They're not things we "should" do. They help us choose what to do next. There's no going back to normal, so seize your opportunity to revisit or evolve beyond your old values. Perhaps you create a new value around a new important construct. My clients are adopting things like self-management, empathy and belonging. Knowing better begets doing better.
Connect values to behaviors
To create a culture, your values must move off the poster paper and into the fabric of the team. The elements that drive values integration are behaviors and stories (about behaviors). Leaders are culture carriers—it's their behavior that sends a signal to team members about what's OK and what's not OK.
Once you have clarity around your renewed values, take the time to define what each value looks like behaviorally in both an in-person and a remote environment (if that applies to you) so people can strive to deliver those behaviors.
For example, "teamwork" is easy to understand when we share hallways and water coolers. It's a lot harder to do "teamwork" when everyone is remote. A remote behavior that fosters teamwork might be, "We turn video on during Zoom calls." Being explicit in this way can protect cultural values.
Know your audience
Many of us still have the sense that we're living at work, rather than working from home. To create a magnetic culture where people choose to bring their talents, give some attention to the trends. Trends tell you what people will want next.
For example, there's a new mountain of research that suggests people who experience long work hours also experience serious health consequences. Working parents have experienced staggering setbacks in the last 13 months to provide at-home learning for their kids while maintaining their corporate commitments. You might have a new DE+I initiative spurred by recent traumatic racial injustice.
Ask yourself things like, how might we use our new values to dismantle old, always-on belief systems? Which new cultural behaviors might help working parents continue to feel supported and cared for in our culture? Which new behaviors will we model to promote a true culture of belonging? Finding the intersection between your sacred values and what your people will want from you is key to unlocking the culture code.
Now, turn up the volume
In this new paradigm, we've learned that the leadership basics—communication, empathy, two-way feedback, praise, connection—still apply, but what's required now is more and better.
Turn the volume up on these leadership skills during times of change. Invest in the health of your culture. Measure it to strategically build upon it. Develop your leaders so they know how to carry it. And be prepared to authentically uncover shared values when bright minds consider where they'll go next.
Winning cultures will ride the surf of the boom to shore. The worst will be hurled into the shoals of sunken ships. You've come too far for that.•
__________
Haskett is a leadership consultant at Advisa, a Carmel-based leadership consultancy.
Please enable JavaScript to view this content.