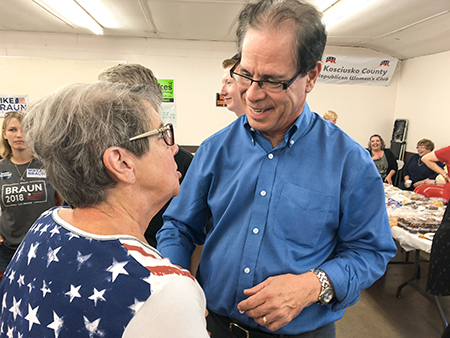 The value of U.S. Sen. Mike Braun's total assets appears to have dropped last year, according to his latest personal finance disclosure.
Braun's total assets are worth roughly $12 million to $49 million—compared with the $36 million to $96 million the Jasper Republican reported last year.
Reports from senators were due May 15 to the U.S. Senate Ethics Committee, but Braun requested and was granted two extensions. He filed his report for the 2018 calendar year on Tuesday. Lawmakers report their assets in broad value categories.
Braun's assets include a mix of mutual funds, government securities, corporate stock, retirement accounts, real estate, bank deposits and life insurance.
The decrease in total asset value mostly comes from a drop in his private stock in Meyer Distributing, the company he founded. Last year, Braun reported the stock was worth between $25 million and $50 million, but now he lists it as between $1 million to $5 million.
Part of that decrease could be attributed to Braun reducing his involvement with the company. His financial disclosure no longer listed him as an officer for Meyer Distributing or Meyer Logistics. U.S. Senate ethics rules prohibit him from serving in office and continuing to be CEO of Meyer Distributing.
"Individual questions about why the value of some of his holdings changed from 2017 and 2018 to 2019 reflects either changes in the financial market or his decision to sell or adjust certain holdings," Braun's chief of staff Josh Kelley said in a statement.
Several of Braun's mutual funds also changed in value and his salary income dropped.
In 2017, Braun reported earning a total salary of $443,327 between Meyer Distributing, Finishing Touches and the state of Indiana. But in 2018, that decreased to $202,322.
Part of the decrease is because Braun no longer receives a paycheck from the state of Indiana—because he was not a state lawmaker for any part of 2018—but the income from Meyer Distributing and Finishing Touches also both decreased.
In 2017, Braun earned $180,000 from Meyer Distributing, and in 2018, he earned $150,000. From Finishing Touches, he earned $225,000 in 2017, and that dropped to $52,000 last year.
Braun's biggest asset is the property he owns with his wife, Maureen. They own and rent multiple properties that are valued between $8.46 million and $38 million, according to the disclosure.
That includes nearly 750 acres on Diamond Island in the Ohio River, with a value of $250,001 to $500,000; a total of 812 acres near Griffin, worth $565,000 to $1.15 million; and 92 acres in Owensville worth $50,001 to $100,000. The properties also include an undisclosed amount of farmland and timberland in Jasper and French Lick worth a combined $7.6 million to nearly $36.3 million.
The highest-valued single property is an undisclosed amount of timberland in Jasper worth $5 million to $25 million.
The properties also includes the land and building for Maureen Braun's home furnishings store in Jasper, Finishing Touches, which has a value of $250,001 to $500,000.
Between five checking and savings accounts, the couple has $203,005 to $545,000.
Braun has less debt in his name than he did in the report filed last year.
With his wife, Braun has one mortgage and a line of credit totaling between $350,000 and $750,000.
Another mortgage and other lines of credit from the 2017 disclosure are no longer listed.
One new debt added last year is a promissory note worth $15,000 to $50,000 loaned to Braun from his brother, Steve Braun.
Braun's Indiana counterpart in the U.S. Senate, Republican Todd Young, has significantly fewer assets to his name.
Young only lists a checking account, savings account and his wife's retirement account worth a total of $52,002 to $130,000.
He also lists his wife as receiving a salary of more than $1,000 from both Paoli law firm Tucker and Tucker P.C. and Bloomington Shuttle Service.
The couple has two mortgages in their name totaling $500,000 to $1 million.
Young also reported taking a trip from Washington, D.C., to Sea Island, Georgia, that was paid for by the American Enterprise Institute, a conservative think tank. The cost of the trip is not disclosed.
Please enable JavaScript to view this content.