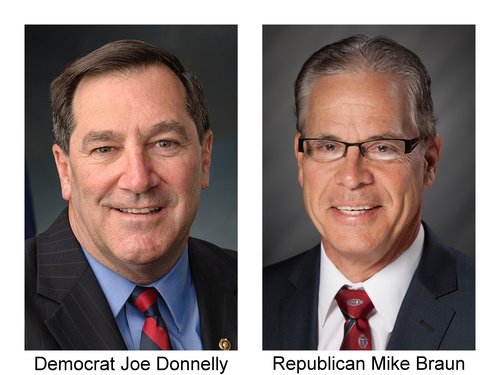 After several days of hounding by Democrats, Republican U.S. Sen. candidate Mike Braun has filed his personal finance disclosure and lists assets worth roughly $35 million to $96 million.
Democratic U.S. Sen. Joe Donnelly's assets, on the other hand, are much less and fall somewhere between $872,000 and $1.9 million. The reports list assets in ranges, rather than in specific amounts.
The reports from candidates and sitting senators were due May 15 to the U.S. Senate Ethics Committee, but Braun's report was not filed until Thursday afternoon. Donnelly's report was filed May 11.
Braun's campaign had told other media outlets that it would be filed within the 30-day extension period, but Democrats still criticized the delay.
"His campaign can tell you whatever they want," Indiana Democratic Party Chairman John Zody said in a prepared statement. "The story is, the ethics committee puts a deadline there. Candidates should be following it. Mike Braun appears to be too busy in Washington D.C. visiting the swamp, doing all the things he said he would never do when he was a candidate in the primary election, so he should have filed it when he was in town."
Braun's biggest asset by far is his private stock in his Jasper-based company, Meyer Distributing, which is worth somewhere between $25 million and $50 million, according to the disclosure filed with the U.S. Senate Ethics Committee. Braun reported earning nearly $18.5 million from the stock.
After that, his biggest asset is the property he owns along with his wife, Maureen. They own and rent property worth between $8.45 million and $38 million, according to the disclosure.
That includes nearly 750 acres between Evansville and Mount Vernon, with a value of $250,001 to $500,000; a total of 815 acres near Griffin, worth $565,000 to $1.15 million; and 92 acres in Owensville worth $50,001 to $100,000. It also includes an undisclosed amount of farmland and timberland in Jasper and French Lick worth a combined  $7.35 million to nearly $36 million.
And it includes the property and building for Maureen Braun's home furnishings store, Finishing Touches, in Jasper, which has a value of $250,001 to $500,000.
Braun's other assets come from mutual funds, retirement accounts, life insurance, government securities and bank deposits.
Between five checking and savings accounts, the couple has $203,005 to $545,000.
Braun earned $180,000 from his role at Meyer Distributing last year, plus more than $38,000 from the state of Indiana. Maureen Braun earned $225,000 through Finishing Touches.
Braun took out at least three lines of credit so far in 2018 for his campaign worth $2.25 million to $10.5 million. A line of credit from 2017 worth $100,001 to $250,000 does not list a purpose.
The only other debt listed are two mortgages.
Donnelly's biggest asset is his property in Michigan City, worth $500,000 to $1 million. Other assets include bank deposits, stock, mutual funds, life insurance and retirement plans.
As promised, Donnelly reported that he sold his stock in Stewart Superior Corp. His campaign confirmed in August that he sold it for $17,410 and planned to donate the proceeds to charity.
Stewart Superior Corp. is operated by Donnelly's brother, and the vulnerable senator was criticized for the investment after it became public that the business has a factory in Mexico.
Donnelly's only liability is a mortgage.
Donnelly and Braun will face each other in November in one of the most-watched U.S. Senate races. 
Please enable JavaScript to view this content.