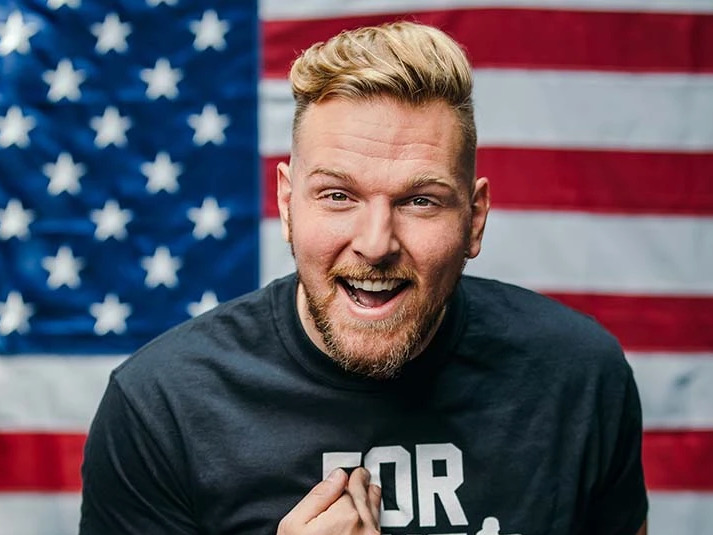 Attorneys for former NFL quarterback Brett Favre filed defamation lawsuits Thursday against former Indiana Colts punter and local business owner Pat McAfee, as well as Mississippi's state auditor and sports media personality and former NFL player Shannon Sharpe.
At issue are public statements the three made about Favre regarding a scandal in Mississippi over the alleged misuse of roughly $77 million in federal funds meant to be distributed to underserved families.
McAfee, who played for the Colts from 2009 to 2016, is owner of Indianapolis-based digital media production company Pat McAfee Inc.
Mississippi Auditor Shad White is accused in the suit of having "carried out an outrageous media campaign of malicious and false accusations" against Favre. Sharpe, an analyst with Fox Sports 1, and McAfee, an ESPN analyst who produces his own popular podcast, are accused of making "false and malicious statements" on the air about the Hall of Fame quarterback. Each lawsuit notes that, before it was filed, the defendant refused to "retract and apologize for his defamatory statements" after receiving a letter from Favre.
Favre, 53, has been accused of participating in a scheme to divert $5 million to build a volleyball facility at the University of Southern Mississippi, where his daughter played the sport and he starred in college. The Mississippi native has repaid $1.1 million he received, ostensibly for speaking engagements that failed to materialize, out of a pool that originated with the Temporary Assistance for Needy Families program. Funds allegedly made their way to Favre and a USM-related sports foundation through a not-for-profit, the Mississippi Community Education Center, that had contracts with the state's Department of Human Services.
A former DHS director, John Davis, and two officials with MCEC have pleaded guilty to federal and state charges in connection to the scandal, which White's office has described as "Mississippi's largest public fraud scheme." Also ensnared in the scandal were Brett DiBiase, a former wrestler who pleaded guilty in 2020 to a felony count of making fraudulent statements, and former DHS accountant Anne McGrew.
Favre, who has said he was "unjustly smeared" and did "nothing wrong," has not been charged with a crime. He was named as one of over three dozen defendants in a lawsuit filed by Mississippi's DHS that seeks to claw back millions in TANF funds. Lawyers for Favre asked in November that he be dismissed from that lawsuit, which they called "nothing more than a baseless attempt to blame Brett Favre for [the DHS's] own failure to oversee the welfare funds placed in its trust."
The lawsuits filed Thursday by Favre's team accused White, Sharpe and McAfee of trading on the ex-quarterback's "celebrity" for professional gain.
"By shamelessly and falsely attacking Favre's good name, White has gained national media attention he previously could have only dreamed of," the lawsuit states. Examples cited by the filing of "egregiously false and defamatory" statements attributed to White include "accusing Favre of 'steal[ing] taxpayer funds' and knowingly misusing funds 'designed to serve poor folks.'"
The lawsuit against Sharpe states that his "outrageous falsehoods" include saying that Favre was "a sorry mofo to steal from the lowest of the low" and that he "stole money from people that really needed that money." McAfee's cited comments include asserting that Favre was "stealing from poor people in Mississippi."
In a statement Thursday, a spokesman for White said all of the auditor's comments on the TANF case are "true" and "backed by years of audit work" by professionals at their state office.
A representative for Sharpe did not immediately respond to a request for comment.
McAfee used his Twitter account Thursday to make an oblique, lighthearted reference to Favre's lawsuit by sharing a snippet from a courtroom scene in a former Comedy Central program, "Chappelle's Show."
In comments provided to Fox News in October, Favre said, "No one ever told me, and I did not know, that funds designated for welfare recipients were going to the University or me. I tried to help my alma mater USM, a public Mississippi state university, raise funds for a wellness center. My goal was and always will be to improve the athletic facilities at my university. … I was told that the legal work to ensure that these funds could be accepted by the university was done by State attorneys and State employees."
The lawsuit against White noted that in May 2020, after his office received an initial installment of $500,000 toward the $1.1 million Favre eventually repaid, the auditor wrote: "I want to applaud Mr. Favre for his good faith effort to make this right and make the taxpayers and TANF families whole. To date, we have seen no records indicating Mr. Favre knew that TANF was the program that served as the source of the money he was paid."
"White, without basis, reversed course a year later," the lawsuit states, "seeking press attention for his forthcoming reelection campaign."
Some of White's comments that are cited in the lawsuit came during September 2022, shortly after a Mississippi Today investigation revealed the involvement of former Mississippi governor Phil Bryant in the plan to use TANF funds via MCEC to build the volleyball facility. Among the details unearthed were text messages between Favre and one of the MCEC administrators who subsequently pleaded guilty. In one of the texts, Favre asked the administrator, "If you were to pay me is there anyway the media can find out where it came from and how much?"
White told Fox News in October that documents made public through filings related to the civil case showed Favre "did know it was government money, and he did know that it was coming from this agency … that is responsible for handling programs that are geared toward helping the poor."
"It's mind-boggling that Mr. Favre wants to have a trial about that question," White's spokesman, Fletcher Freeman, said Thursday in his statement about the defamation lawsuit. "Mr. Favre has called Auditor White and his team liars despite repaying some of the money our office demanded from him. He's also claimed the auditors are liars despite clear documentary evidence showing he benefitted from misspent funds.
"Instead of paying New York litigators to try this case, he'd be better off fully repaying the amount of welfare funds he owes the state."
Please enable JavaScript to view this content.