Can downtown recover from the one-two punch of the pandemic and the riots?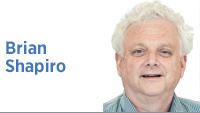 What is missing in downtown Indy? We are the best of the best at holding sporting events and conventions. No city in America can equal Hoosier Hospitality, and every visitor praises our compact downtown and our easy accessibility.
So, what's missing? Why are we losing our local talent? Why are we not keeping our Kelley School of Business graduates, Rose-Hulman graduates and specialized Purdue engineers?
These graduates represent the eggs for the incubators that will power our downtown and city.
Let's study the needs of these graduates, because they are the leaders and inventors of Indy's future. Restaurants, apartments, houses, medicine, entertainment and retail are the byproducts of these graduates—but not necessarily what they need.
Our downtown convention and tourism business is our gravy, but a real community needs talented employees that nourish the community as a whole.
So Downtown Indy Inc.'s blue ribbon committee studying downtown will need to question graduates of these top schools to understand their immediate needs. When the committee also studies the directions being taken by our major employers—Eli Lilly and Co., Salesforce, Roche, Anthem, Rolls-Royce, Allison and the Indiana University Medical School—the committee can help these institutions shape their goals with an eye to the needs of their top recruits.
We cannot let our personal self-interests dictate the future of downtown. Instead, we must help it grow organically with our top college graduates shaping the direction.
Meanwhile, in the short run, we can look at some immediate improvements.
Here's one: underwriting a top music venue with multiple stages, one that also offers excellent food and spirits. We subsidize our sports teams, so we should be able to subsidize our small entertainment venues. We want to keep our historic buildings but repurpose them for new venues and needs so we can retain our great downtown character.
Given construction costs downtown, we do not have the critical demographic mass to support a viable music scene without long-term financial commitment from our city and corporations. Too often, developers make promises they do not keep, especially when they flip properties. Current and future venues need subsidies for the time it will take to create a destination for the best performers of all genres of music—from classic chamber to soul to electronic dance music (EDM).
Here's another fix: more indoor and outdoor amenities for the whole city. Biking and hiking trails will enhance all of Indianapolis. Let's add adult sports throughout the city— leagues for softball, basketball and soccer. Top Golf would be a great asset for our best and brightest, and for the whole downtown.
Finally, we must keep Indy's small businesses—especially Black businesses—viable. Small businesses need assistance with banking and financing in these complicated times. Business-school students can help provide academic models. Kelley School of Business could help the city create mentoring groups to guide small businesses with marketing, accounting, finance and operations.
If we lose our distinctive home firms, national chains come in and take their profits out of state. Developers love chains because they are creditworthy, but Indianapolis subsidizes developers; now they need to pass their savings on to the little guy.
Our city is on life support, so we have to attract and keep our best and brightest. They can see it's OK to be a nerd and live downtown!•
__________
Shapiro is the owner of Shapiro's Delicatessen and serves on the board of the Stadium Village Business Association. Send comments to ibjedit@ibj.com.

Click here for more Forefront columns.
Please enable JavaScript to view this content.