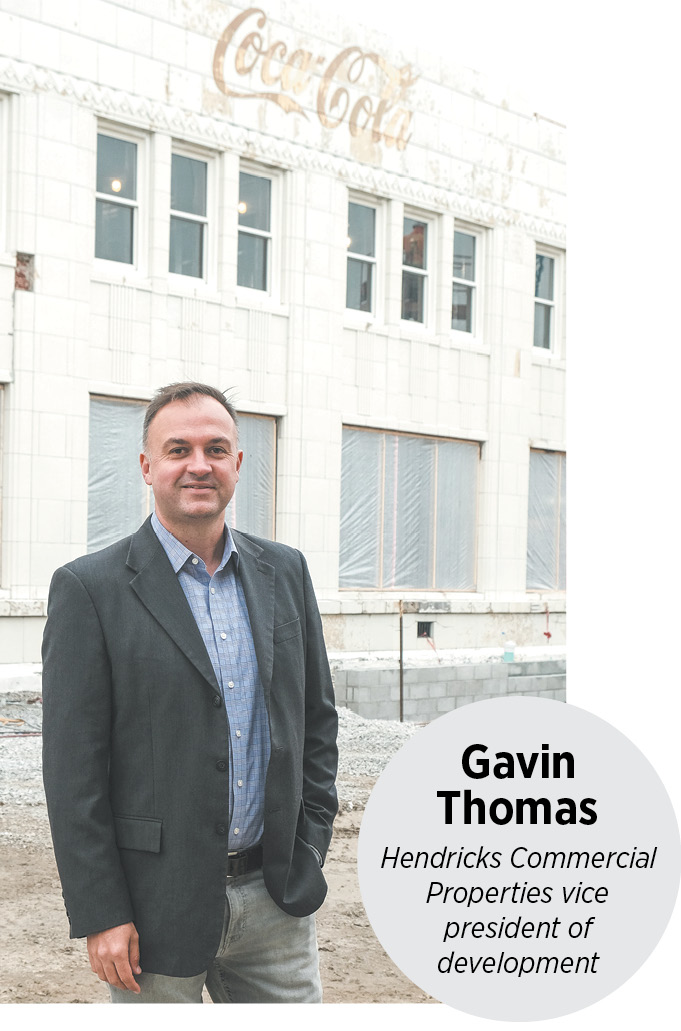 Gavin Thomas, 43, joined Wisconsin-based Hendricks in August to lead the Bottleworks District project at 850 Massachusetts Ave., after five years heading up development at Kite Realty Group Trust.
The 12-acre project is currently under construction, with parts of the first phase expected to open as early as mid-2020.
He lives in Indianapolis with his wife, Christine, and their three children: Mia, 12; Julia, 9; and Cian, 4.
How did you get to Indianapolis?
I was born in Scotland, but my folks moved over here when I was about 3. We lived in numerous states, mostly in the eastern half of the country—Florida, Ohio, Kentucky, North Carolina, and most recently, Tennessee. We moved here to Indianapolis about five years ago, when I accepted a position at Kite Realty Group.
What was your first impression of the city?
There's a lot going on in Indianapolis with the real estate sector but the city's economy, too. I honestly found it to be a surprisingly vibrant place with a lot of great opportunities.
I came for the job, but as we have been here longer, we've found Indianapolis has a lot to offer. The city's been our home for five years now and we plan on being here indefinitely.
What projects did you work on for Kite?
The country was divided up and I had covered the eastern portion—so anything related to development happening kind of east of the Mississippi. I spent the past four or five years densifying our properties and redeveloping them.
So were you involved in Kite's recent Glendale project?
I was involved in all the Indianapolis projects Kite was working on—from Glendale, to Traders Point and the Corner [in Carmel], and Castleton Square. I was part of a little shopping strip center project at the corner of 82nd Street and Allisonville Road; that was one of the first projects I did.
But I was departing Kite right around the time the Glendale project was really picking up steam and moving forward.
What made you the right person to lead the Bottleworks project?
You'll have to check with my boss on that one, but I think it's just the culmination of experience having worked in a variety of roles for major [real estate investment trusts] and other big real estate companies. I've been an entrepreneur, through a small partnership, worked in urban neighborhoods and been a rapport with various restaurant companies and retailers.
I feel all those different aspects really fit well with what Hendricks is doing—in particular this Bottleworks project. The company has a very entrepreneurial ethos and that really matched my background.
Many developers have said Bottleworks presents a unique challenge for Hendricks. What sets this project apart from a typical development?
We're dealing with something rather remarkable here—an incredible history. There's a responsibility that comes with restoring these buildings to their former glory, while still repurposing them for today's needs and uses.
That's a challenge, but a rather fun one. There's so much detail and craftsmanship that quite simply can't be replicated in today's construction world. So being able to restore that is really rewarding.•
Please enable JavaScript to view this content.