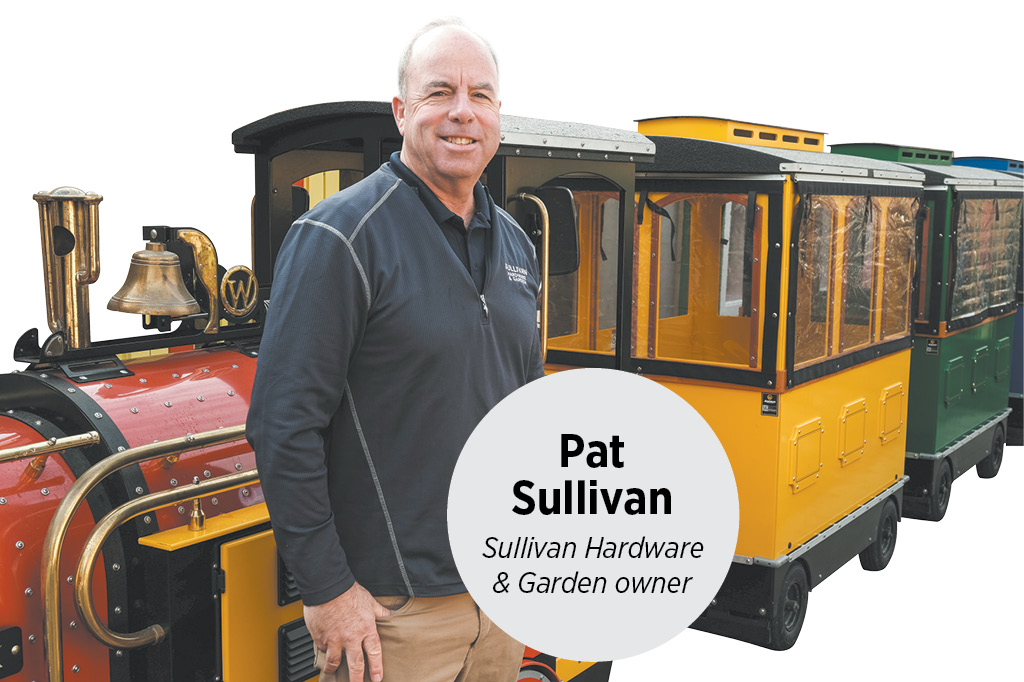 Growing up in the 1960s, Pat Sullivan shared in the Indianapolis holiday tradition of riding on a tiny train at the downtown L.S. Ayres department store and meeting Santa Claus. Decades later, as head of locally based and family-owned Sullivan Hardware & Garden, he hit on a similar idea.
With an initial investment of about $200,000, the Sullivan Santa Express debuted in 2015. It features a "train" on conventional wheels ferrying families around the Sullivan garden center at East 71st Street and Keystone Avenue. After rolling past fanciful holiday vignettes, the train deposits its passengers at the North Pole to meet Santa.
The Santa Express quickly has achieved the status of north-side holiday tradition, although families come from across the state. Last year, about 35,000 people took the ride, lined with alpine vistas, animatronic characters and goofy scenes from Santa's North Pole operation.
It has grown considerably in scope since 2015, with about $500,000 invested so far, Sullivan said. And ticket prices have reflected that. A full family paid $20 in the first year; today, the fare for a family is $50 to $60, depending on the day.
How did this come about?
I have five children, and going to see Santa is very painful. I thought, "How can I make this less painful?" So we started doing Santa nights at the store. People would come in, and you'd get a number so you didn't stand in line. But [the crowds] got too big. I always had the train thing in my mind. And then I came upon the trackless train. So when we added on to this facility, we made it so that the train could make its way through our garden center.
What was the response the first year?
All the tickets are sold online. In the first year, we sat there and watched the computer, and we sold 89 tickets the first hour. And we were beyond thrilled. So, fast-forward to our fifth year, we sold 1,700 tickets in the first 14 minutes and then ended up selling 2,500 the first hour. By midnight, almost half the tickets were gone.
How much creative input do you have?
I'm right there. I write the scripts for the talking animals. There's a lot of people with a lot of good ideas, but I'm right there. For next year, I've got my eye on a four-piece, life-size, polar bear band.
Are you doing this to make money or are you just breaking even?
It's too much work not to make money. I probably don't calculate our expenses like I should because, you know, you use a lot of the staff. We have a couple maintenance guys who start in August. The garden center staff does a lot of the creative work. Does it make money? Absolutely it makes money.
How much money does it make?
The revenue is about $350,000. But I've never really penciled it out, because there are so many expenses and we invest so much into it. But the story is not making money on the train. The story is getting people into your store to buy things. We noticed that, any place where we added an hour to the train schedule that wasn't there the year before, our sales in the store increased on average about 20%.
We're here to make money, right? But what it does for your staff, the excitement—I mean, everybody gets to play. It's a blast. They're out there working and creating, so it's a good, healthy thing for your employees to do.•
Please enable JavaScript to view this content.