The business accelerator Gener8tor has announced its fourth cohort of participants for its Indiana-based gBETA AgBioScience program, which works to nurture both the participating startups and the state's agbioscience industries.
The seven-week accelerator kicked off Sept. 29, but Gener8tor just announced the cohort members this week. The program concludes Nov. 18.
As part of the program, participants get free coaching, education on startup-related business topics and opportunities to meet mentors and potential investors. Gener8tor does not take an equity stake in the startups as part of the accelerator.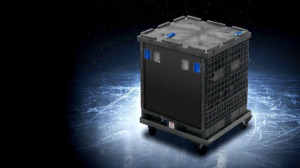 Participants in this year's cohort include:
— Anderson-based ArcticRX, whose founder and CEO is Shane Bivens. The company is developing a storage pod that can maintain ultra-low temperatures for at least 21 days without electricity or batteries, allowing for transport and storage of medicines and other products.
— Anderson-based Avari Labs, whose founder and CEO is Greg Schlensker. The company is developing microalgae as a food source for fish in hatcheries.
— West Lafayette-based Contago Inc., whose founder and CEO is Ben Brame. The company offers software and technology that help commodity traders make decisions such as when and where to buy fertilizer, grain and energy.
— Cincinnati-based Inland Shrimp Co., whose CEO is Gary Beatty. The company offers a high-tech method for indoor farming of saltwater shrimp and other seafood.
— Middlebury, Vermont-based Seedsheet, whose CEO is Rob Kennedy. The company, which has generated $5 million in revenue since 2020, makes customized sheets of seeds designed to make home gardening easier.
Ty Tjoelker, director of Wisconsin-based Gener8tor's Indiana gBETA programs, said the agbioscience accelerator has worked with 20 companies to date, including this year's cohort. Those 20 companies have attracted cumulative investment funding of $22.44 million and created 103 jobs.
The agbioscience accelerator operates as a combined virtual and in-person program. Participants participated in an in-person kickoff event. Next week they'll reconverge for "field trip" visits to the accelerator's sponsors: Indianapolis-based AgriNovus Indiana, Hamilton County-based Beck's Hybrids, and Ag Alumni Seed, which develops high-performance hybrid popcorn seeds and is based in the Tippecanoe County community of Romney.
By bringing the founders in contact with program sponsors and other Indiana resources, Tjoelker said, the hope is that some of those startups will decide to stay in—or relocate to—Indiana as they build their businesses.
Gener8tor's other Indiana-based gBETA accelerators include programs focused on 5G technology, energy and sustainability, the future of mobility and manufacturing technology (also known as industry 4.0.)
A public showcase event at a yet-to-be-decided Indianapolis location next year will allow the most recent members of the AgBioScience and other gBETA cohorts to pitch their startups to investors, community partners and the general public, Tjoelker said.
In October, Gener8tor, in partnership with the HudsonAlpha Institute for Biotechnology, also announced five startup companies selected for the inaugural HudsonAlpha Agtech Investment Accelerator in Huntsville, Alabama. That 12-week program started Oct. 13 and will invest $100,000 in its startups.
Please enable JavaScript to view this content.