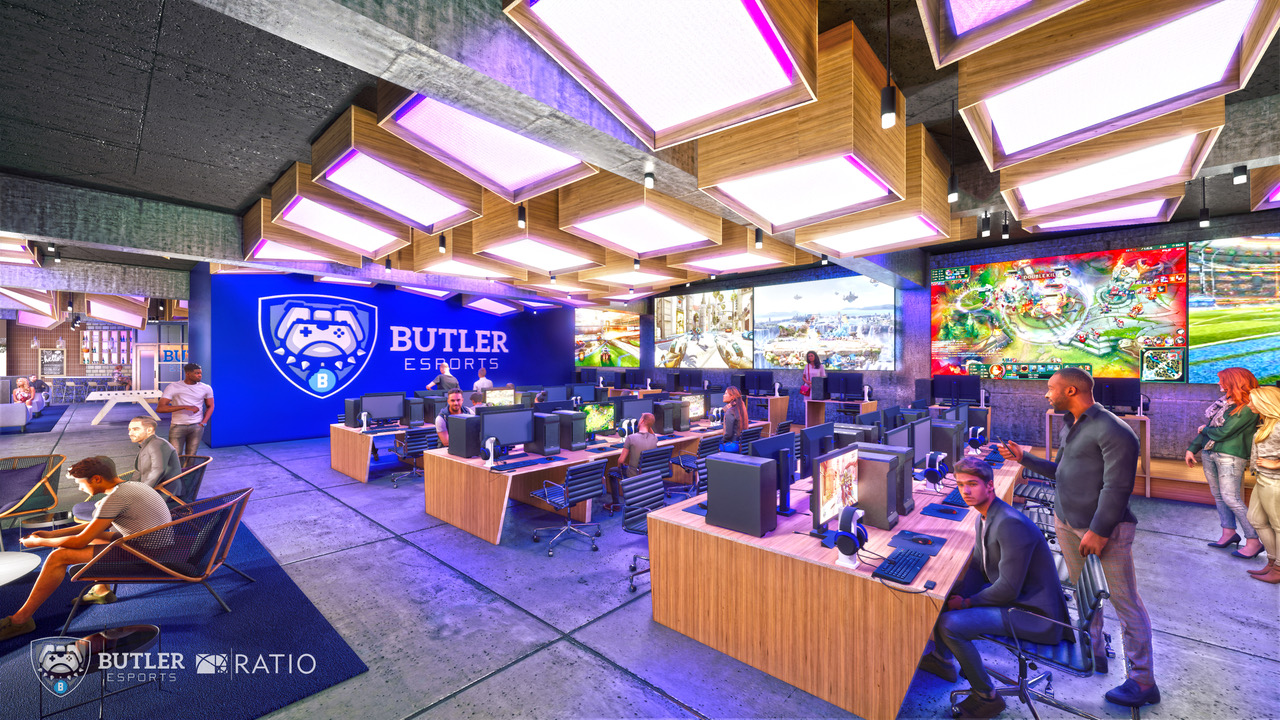 Butler University plans to open an esports center on campus as it looks to generate opportunities and programming for students interested in competitive gaming.
The university plans to debut the first phase of its investment in gaming in late November—an 800-square-foot lounge inside Atherton Union. It will feature 16 gaming PCs and a small gaming console area.
Butler plans to build out a much larger space in fall 2020—about 7,500 square feet—on the first floor of the university parking garage. The Esports and Gaming Center will have 50 gaming computers, a larger space for console play, co-working space, meeting areas, rentable office space to support startups, and a cafe.
A training area that could be used for STEM and sports camps will also be part of the space, along with broadcasting capabilities, allowing students to produce live programming and other content, like podcasts. 
The university worked with local firm Ratio Architects to design the space.
Butler has had an esports club team since 2017. It competes with other schools in games such as Rocket League and League of Legends through the Big East Conference—the same conference in which Butler competes in varsity sports.
Eric Kammeyer, director of esports and gaming technology for Butler, said conversations about creating a dedicated space and programming for esports began in 2018, and university leadership has been supportive of the effort to create a new gaming area.
"They were very forward-thinking about how we transition to focus on programming and delivering to that next-generation pipeline of students," he said. "We really like to look at new initiatives and pathways for our next-generation students, so there were a lot of conversations about doing something like this."
Butler officials declined to say how much they were spending on the project, but said funding is coming from the Butler Beyond campaign, said Melissa Beckwith, vice president of strategy and innovation for the university.
That fundraising initiative, announced Oct. 5, has already raised more than $171 million toward a $250 million goal.
Butler plans to implement a curriculum for students interested in esports and related fields, she said.
"While competitive and recreational esports is a key driver of this new space, our vision is larger," Beckwith said. "Our goal is to create a space that will ultimately support curricular innovation, serve the K-12 community, and align with two of the city's economic engines—sports and technology. Integrating these efforts is the key to creating maximum impact for our students, faculty, and broader community."
A variety of faculty are involved in the effort, creating potential avenues for esports to be introduced in disciplines such as media and storytelling, business, and technology.
"Esports is very much the wild, wild west," Kammeyer said. "We need to find what fits our focus and our mission and what fits Indianapolis."
He said Butler's esports program may attract talent to the university, allowing the city a better opportunity to cultivate and retain high-skill workers—particularly in the tech sector.
The university also may look to join nearly 200 other schools around the country that are offering scholarships for esports, said Beckwith. Those schools offer about $15 million in scholarships each year, with the average esports player receiving about $4,800 in tuition, according to Wired.com.
"I do think that you will begin to see—just like academic scholarships and traditional sports scholarships—more and more scholarships emerging as universities build their esports teams," she said. "We're not [among those], but it's something we're absolutely having active conversations about."
Please enable JavaScript to view this content.