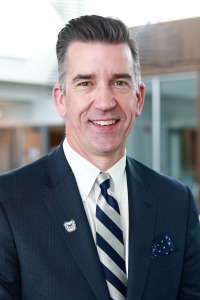 Butler University on Thursday announced the appointment of Craig Caldwell as dean of its Lacy School of Business. Caldwell has been serving as interim dean since July 1, 2021.
Caldwell has been at Butler since 1999 in a variety of roles, including adjunct faculty, lecturer, visiting professor, assistant professor and associate professor of marketing and management. He also served as chairman of the Marketing & Management Department for three years.
The Lacy School of Business has used two interim deans since the 2020 departure of Steve Sandifird, who left Butler after six years as dean to become president of Bradley University in Peoria, Illinois.
Hilary Buttrick took the interim role for about a year before becoming executive director of the Orr Fellowship on July 26, 2021. Caldwell then took over for Buttick.
"Craig has proven that he has the ideas, passion, and the trust of his colleagues to move Lacy School of Business forward together," Brooke Barnett, Butler provost, said in written remarks. "After several years of transition, the school is poised to advance, and Craig is well-positioned to lead that movement."
The Lacy School of Business to 1,099 undergraduate students pursuing degrees in accounting, applied business technology, entrepreneurship and innovation, economics, finance, international business, marketing, and risk management and insurance. It also has 234 graduate students.
Caldwell earned a PhD from the University of Pittsburgh, an MBA from Virginia Tech and a bachelor's degree from Anderson University. He is a coauthor of a book on leadership titled "The Catalyst Effect."
Please enable JavaScript to view this content.