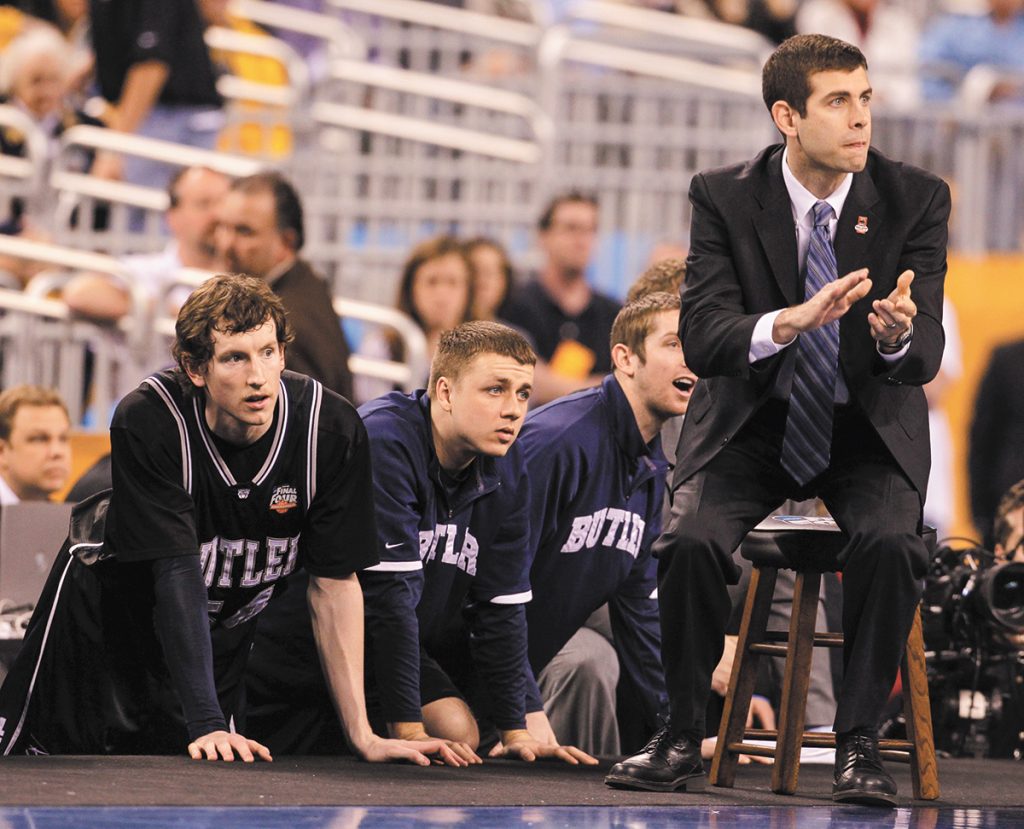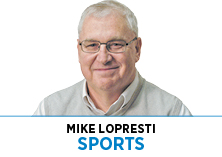 Ten years ago this Sunday, Butler lost a basketball game in Birmingham to UAB. It was only Dec. 22 of a long season, but the UAB coach, Mike Davis, said something interesting about the Bulldogs that night: "They may not lose another game this year."
Looking back, it's amazing how close he came to being right. Butler would win 25 consecutive games until its next defeat—the two-pointer to Duke for the national championship in Lucas Oil Stadium. By then, the Bulldogs had become a full-blown fairy tale. That came only three months into this decade. Was there a more extraordinary sports moment for this town the rest of the decade?
Butler playing in the Final Four? Nearly winning the national championship? In Indianapolis? Even Super Bowls (the one Indy hosted, the one the Colts lost), or the Bulldogs returning to the Final Four the next year could not quite match that on the dream scale of is-this-really-happening? To remember, let's go to the famous coaches fate included in the narrative—Butler's opponents, when the Bulldogs went from upstart to national phenomenon.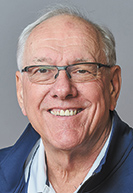 ◗ Syracuse's Jim Boeheim. Butler rallied past his Orange in the Sweet 16 to win 63-59, the big basket a Willie Veasley 3-pointer as the shot clock was about to run out that made it 58-54.
"We didn't have anybody who played in the NBA as it turned out, and they had Gordon Hayward and Shelvin Mack. You didn't know that at the time, so they were actually a little better than maybe people might have thought. They had a good center. They had really good pieces. I was happy we had a chance to win. Their guard [Veasley], who was shooting something like 16%, took a 3 and hit the rim and it went 6 feet up in the air and came down through the basket.
"I think it was great what Butler did, what George Mason did, VCU, Loyola of Chicago, go down the list of teams that were able to get there—I think that's all good for our game. It's become easier over the years with the top programs losing guys, one-and-done and all that, but I heard an athletic director say last year, 'We want to get to the Final Four,' and he was at a school where you couldn't get to the Final Four if you bought tickets for everybody. So, it's dangerous [that anyone thinks it can be done now]. And I've heard that, in more than one case, the president or AD saying, 'We can be Butler.' No, you can't."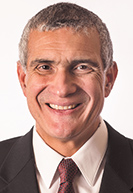 ◗ Kansas State's Frank Martin. In the regional final, Butler lost a 10-point lead against his Wildcats but regrouped at the end to punch its astonishing Final Four ticket 63-56. In 2017, Martin coached South Carolina to the Final Four.
"First of all, they were the most physical team that we played all year. When I was watching them on film, their defensive physicality jumped out at me, and their size. And then they were so efficient as to who they were. I think you see that now with Brad Stevens' team in the NBA. They played with the fewest amount of mistakes. They were just good, there's no other way to put it.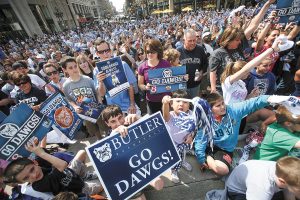 "We make a 3 to go up one, with right under four minutes to go. And they just refused to allow us to win the game. We're down three and Jacob Pullen—the game before against Xavier, he made the same 3 off the same play in the same spot—shot it. That thing was down and it just wasn't meant to be. It came out.
"One regret that I have. It's the only time all year that I didn't make the practice [the day before] physical and competitive. And it's because the game against Xavier the night before had been double overtime and ended after midnight. I took my foot off the pedal in practice and then we played that way the first half. I thought it took a toll, but that's no excuse. That would be taking away from Butler's greatness and their moment.
"The pains are, you're so close to going to the Final Four. So when we did qualify [at South Carolina], reliving that Butler moment immediately popped in my head. There's not a second that goes by that I'm not thankful for just how lucky I am, that I was that close against Butler and then I was able to be a part of it some years later."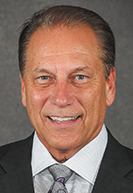 ◗ Michigan State's Tom Izzo. So here was Butler in a Final Four, six miles from campus. Unfathomable. The Bulldogs pushed ahead of his Spartans by seven points but then went nearly 11 minutes without a field goal. Michigan State had a chance for the lead in the final seconds, but Hayward defended (and possibly fouled) Draymond Green into a miss. It ended 52-50.
"I've had two times, that as much as I wanted to win, I got caught up in the storyline. One was when we played Temple to go to the Final Four and I was a big John Chaney fan, and he hadn't been to one yet. I made the comment then I felt like the guy who shot Bambi. And then against Butler, I got caught up in realizing this was Cinderella at that time, and I had been Cinderella before. And Cinderella in your own town. You lost, but you felt good for them.
"I've still got a picture that shows when [Green] took that shot, and every once in a while, I say if he had made that we had a chance to win the championship. It was a unique Final Four, and I think the Butler phenomenon made that Final Four. It felt like a road game, but then it was a road game for people when we were in Detroit [the 2009 Final Four], so I held nothing against them for that.
"They were the most physical team we played. And think about, it, we played in the Big Ten, which back then we could block and tackle guys. I kind of loved it, except it was against me, so I didn't love it that much. I saw Mike Krzyzewski after the game and I said, 'Don't underestimate how physical they are.'"
Izzo's defense did all it could. The Spartans held Butler to 30.6% shooting.
"Make sure," he said, "you put that in there."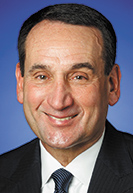 ◗ And finally, Duke's Mike Krzyzewski. The title game ended 61-59 with Hayward's Hail Mary at the buzzer bouncing away. Krzyzewski made two critical coaching moves in the final seconds. With Duke ahead 60-59 and Butler ready to run an inbounds play, he had 7-1 Brian Zoubek guarding the inbounds pass for the first time all night. Stevens had to use his last timeout to reset. With 3.6 seconds left and the lead 61-59, Krzyzewski ordered Zoubek to intentionally miss his second free throw, so Butler would have to rebound and rush the ball up quickly. He'd chance a last-ditch heave. Hayward nearly made him pay.
"The very first [memory of that night] was walking up into the arena, because it's elevated at Lucas Oil. I was just starstruck with how beautiful it was. By that time, I had been to the Olympics and a number of national championship games, but there was just something different about it. The atmosphere was electric. It felt like a home game for Butler, so we were playing on the road in a national championship game.
"Every possession was going to be tough because they didn't turn the ball over. Defensively, they were very physical. You were going to have to play through contact. Not fouls, but contact. We felt it was going to be a low-scoring game, which it was. It was a game that we saw that our bench couldn't play in. Sometimes, the game becomes above a bench player. I knew we had to stick with our starting five [two Blue Devils went all 40 minutes, another 37, another 35].
"The atmosphere changed in the last couple of minutes. You could sense a momentum and the crowd lending itself to more of a Butler situation. I didn't want to go into overtime. If it goes into overtime, we're going to lose. So my thing was, let's bet on that [hence, ordering the missed free throw]. I'm not sure that it got support of my staff, but would I do it again? Yes, I would do it again. That was the moment to win.
"We jumped around afterward because it was such an exciting end. My first thought was, 'Quit jumping; let's remember the other guy.' Brad was very gracious. He said, 'You should jump; you guys just won the national championship.' I remember talking to Brad later, saying, 'Your world has changed; you'll be shocked and your school will be shocked at what it means. Just be ready."'
Ten years later, none of them have forgotten. Not Butler, nor the coaches the Bulldogs faced—all with roles in what was the most improbable sports story of the decade for Indianapolis.•
__________
Lopresti is a lifelong resident of Richmond and a graduate of Ball State University. He was a columnist for USA Today and Gannett newspapers for 31 years; he covered 34 Final Fours, 30 Super Bowls, 32 World Series and 16 Olympics. His column appears weekly. He can be reached at mjl5853@aol.com.
Please enable JavaScript to view this content.