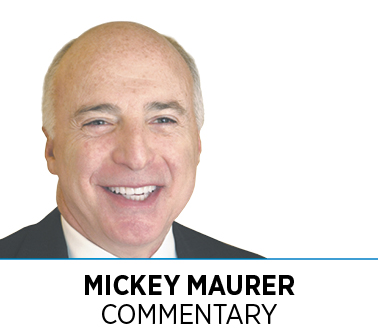 Have you met Peter Paul Montgomery Buttigieg? He is a bright, young, articulate candidate for president of the United States. You can call him Mayor Pete.
Mayor Pete's resume does not boast vast experience in government. In his less than two terms as mayor of South Bend, he is earning mixed marks. The Buttigieg resume is otherwise remarkable. It includes a Harvard University degree, soldiering in Afghanistan and study as a Rhodes Scholar. His sexual preference, no longer closeted, is a non-issue in most circles. (Rip Van Pence hasn't awakened to that yet, nor has the Archdiocese of Indianapolis.) In short, Mayor Pete is captivating. I wish he were a better fit for me.
I am fretting over Mayor Pete's fascination with the issues of reparations and right to work. Is he chasing the Bernie Sanders mantra: If a little is great, and a lot is better, then way too much is just about right?
◗ Reparations. Mayor Pete's Douglas Plan pitches worthy proposals on criminal justice and voting rights. But he leaves me unpersuaded when he speaks of a multibillion-dollar plan that amounts to saturating the African American community with programs and benefits.
Our country has a complicated and shameful history regarding race, about which a reckoning is long overdue and which deserves a sober national conversation. Everyone is entitled to a level playing field and the removal of barriers that impede constitutional rights. However, I doubt that a multibillion-dollar handout and the intensified victim mentality that would be its likely companion represent the best path forward. Reparations, including free health care and free education, are blows against our capitalistic system that will break the competitive spirit of our black citizens by quashing pride and discouraging hard work and independence.
Mayor Pete calls his plan "racial injustice reforms." I call it "another form of racial injustice." Instead, use some of the roughly $100 billion earmarked to the Douglas Plan to provide for early childhood development for everyone born into poor circumstances regardless of color.
◗ Right to work. Right to work supports the notion that as a matter of fair play no person should be compelled as a condition of employment to join or pay dues to a labor union. That freedom to choose is a basic American right. Buttigieg seeks to destroy it.
When I served as Indiana secretary of commerce in Gov. Mitch Daniels' administration, my marching orders were to focus on job creation. We learned from business advisers and site-selection pros that many prospective businesses declined to bid in Indiana because of a perceived additional expense related to the absence of a right-to-work law.
In the era of Hoosier Eugene V. Debs, unions benefitted our workforce and continue to do so. Labor unions play an important role in our system of capitalism, but no one should be compelled to join. Gov. Daniels understood this. In his second term, he parlayed his enhanced political capital to enact right-to-work legislation. It worked. My successor reported that many more economic development opportunities came Indiana's way. Mayor Pete would impose a national ban on state right-to-work laws, an inappropriate use of federal authority.
My preference runs to moderate candidates in both parties—as rare as a pastrami sandwich at country clubs in the 1960s. I declined to vote for Trump in the last election in spite of "Hillary angst." In 2020, I will vote for any Democratic candidate running against President Trump short of Atilla the Hun and Bernie Sanders, and I do favor Mayor Pete's support of universal background checks for firearm purchases and gerrymandering reform. Compromises will be in order.•
__________
Maurer is a shareholder in IBJ Corp., which owns Indianapolis Business Journal. To comment on this column, send email to mmaurer@ibj.com.
Please enable JavaScript to view this content.