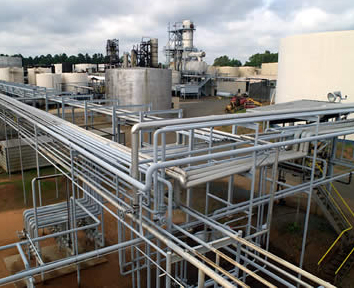 Indianapolis-based Calumet Specialty Products Partners LP lost $149 million, or $1.86 per share, in 2020, bringing the company's total losses over the last seven years to $931.7 million.
The company, which makes specialty petroleum products, announced its fourth-quarter and full-year financial results Wednesday.
Calumet has not posted an annual profit since 2013, when it earned $3.5 million. The company, which filed its initial public offering in 2006, turned a profit during its first eight years as a public company, but has been in the red every year ever since.
Last year's results fell far short of the expectations of analysts, who had predicted a loss of $1.23 per share.
Annual revenue was $2.3 billion last year, down from $3.5 billion in 2019.
"The cards dealt us by the pandemic meant that our financial results inevitably would disappoint compared to a normal year," CEO Steve Mawer told analysts during a call Wednesday morning.
Mawer also said "confusion and inaction" from the outgoing administration regarding renewable energy policy contributed to Calumet's challenges in 2020.
Last month, Calumet announced plans to convert its Great Falls, Montana crude oil refinery into a renewable diesel refinery, funding the conversion with money from a yet-unnamed third-party equity investor.
For the fourth quarter alone, the company posted a loss of $82.1 million, or $1.03 per share. Analysts had expected a loss of 79 cents per share. In comparison, the company lost $38.6 million, or 48 cents per share, during the same period in 2019.
Quarterly revenue was $81.6 million, down from $96.1 million in the same period of 2019.
The company reported an adjusted quarterly gross profit of $86.7 million in its Specialty Products segment, but that was almost offset by an adjusted loss of $71.8 million in the Fuel Products segment.
"Looking ahead, we are encouraged by the continued growth of our specialties business and the across-the-board improvement in demand for all of our products as a result of the economic recovery being driven by the rapid rollout of the vaccine," Mawer said in written remarks.
Shares of Calumet closed Wednesday at $4.09 each, down 6% from Tuesday's closing price.
Please enable JavaScript to view this content.