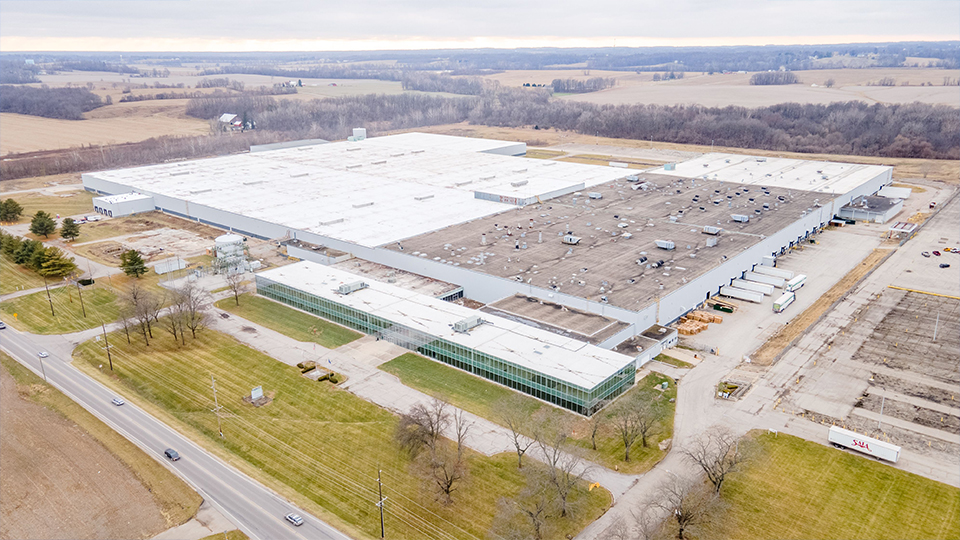 Nova Chemicals Corp., a producer of sustainable polyethylene based in Calgary, Alberta, announced plans Tuesday to establish its first mechanical recycling facility, in Connersville, Indiana.
The company said it will build out and equip a portion of a 1.7 million-square-foot facility, and the operation will process post-consumer plastic films that will be used to make new products such as packaging for food and drink, heavy-duty sacks and shrink wrap.
Details of the financial investment in the project are not being disclosed, but Nova Chemicals said it will create up to 125 jobs in the coming years.
"While we are not disclosing a specific amount, Nova Chemicals' Circular Solutions is making a significant investment to build a world class facility that we expect will produce top-of-the-line recycled polyethylene for our customers and others in the value chain to develop a world-class manufacturing business," Director of Mechanical Recycling Alan Schrob said in a statement to Inside INdiana Business.
The company is partnering with South Carolina-based Novolex Holdings LLC, which will operate the former manufacturing facility that sits on 186 acres at 4747 N. Western Ave. in Connersville.
Novolex develops packaging products for foodservice and industrial markets and also operates a recycling facility in North Vernon; last September, the company said it would invest $10 million to expand that facility.
"Indiana has long been a hub for sustainability, innovation and business," Novolex CEO Stanley Bikulege said in a news release. "The new plant will build on our experience of operating both our North Vernon plastics recycling facility in Indiana and our recycling plant in Wisconsin as well as accelerate our commitment to support recycling and the circular economy."
Once operational, the plant will be used to clean, chop and remelt plastic film collected from retail, distribution and consumer drop-off locations into small recycled polyethylene, or rPE, plastic pellets that will be used in the production of new products.
Nova Chemicals said it chose Connersville because of its access to abundant supply of post-consumer films from nearby metropolitan areas, as well as easy-to-access rail service for distributing the recycled material to customers.
Nova Chemicals plans to have its first processing line in operation by the second quarter of 2025, with four lines operating by Q1 2026. The company expects to deliver more than 100 million pounds of rPE to the market by 2026.
The Indiana Economic Development Corp. said the facility will be one of the largest private employers in Connersville once fully operational. Nova Chemicals plans to begin hiring in the second half of 2024 with the jobs offering average wages above the Fayette County average.
"Nova Chemicals' and Novolex's new operation in Connersville is a significant development for the community and the west central Indiana region, and we look forward to the impact it will have on Hoosier jobs and prosperity for years to come," Indiana Secretary of Commerce Brad Chambers said.
The IEDC has offered Nova Chemicals and Novolex up to $1.4 million in conditional tax credits and $100,000 in training grants. The companies will not be eligible to claim the incentives until Hoosier workers are hired for the new jobs.
The city of Connersville has offered additional incentives.
Please enable JavaScript to view this content.