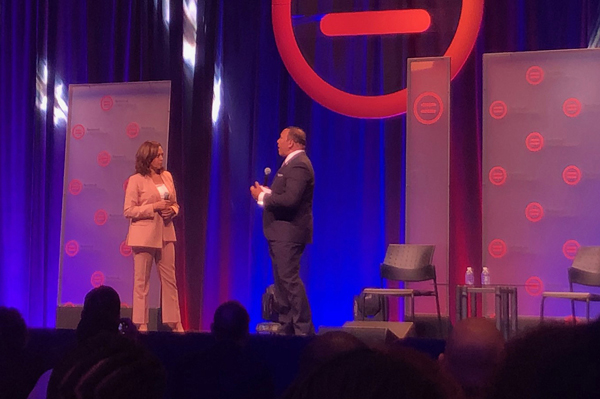 Four more Democratic presidential candidates spoke at the National Urban League conference Friday morning at the Indiana Convention Center, addressing similar topics to the five candidates who spoke at the event the previous day.
South Bend Mayor Pete Buttigieg, Sen. Kamala Harris of California, Sen. Kirsten Gillibrand of New York and documentary filmmaker Ami Horowitz took on common themes including the wealth gap, criminal justice and law enforcement reform, and President Donald Trump's policies and leadership strategy.
The candidates each individually gave speeches and then participated in a question-and-answer forum led by Marc Morial, president and CEO of the National Urban League.
Buttigieg opened his speech by urging the crowd to focus on the future of our nation and not dwell on the country's "broken" systems.
"I'm running for president because I think America's running out of time," he said. "A president like the one we've got right now does not come near the Oval Office unless the ground is shifting beneath our feet."
Buttigieg said people of color bring value to American jobs and institutions, and he called for a national solution to repair the "racist structure" of the country.
"If you are black in America right now, your experience effectively puts you in a different country," Buttigieg said. "For too long we have believed that systemic racism is going to take care of itself in this country. … None of us are free while these inequities exist."
Horowitz calls himself a conservative who does not identify with a specific political party, but is running as a Democrat. He spent much time dissecting the theme of this year's conference, "Getting 2 Equal: United Not Divided."
The documentary filmmaker spoke about his experience growing up with an Iranian immigrant mother. He emphasized the importance of overcoming obstacles, despite your circumstances.
"God knows there have been obstacles put in front of you, but don't let them become impediments for the African-American community," Horowitz said. "I always believe we become what we overcome. Don't wait for one party or the next to give what is yours, go out and take it."
He said promoting the idea of "equality of outcome" is "the failure of the Democratic Party." Equality of opportunity is what allows people to succeed, he said.
"It is this equality that separates this grand country form the rest of the world," he said. "That sense of the word equality is what I cherish and fight for."
Horowitz was the only candidate who, when asked by Morial, did not commit to trying to restoring previous versions of the Voting Rights Act or creating a funded partnership with the NUL if elected president.
Gillibrand said we all need to look at every problem uniquely and how it affects people of color.
"This nation has always believed— in our best moments— that you should treat others the way you want to be treated," Gillibrand said.
Gillibrand, who worked on the 9/11 First Responders Bill that passed the Senate earlier this week, announced a new bill called the Build Local, Hire Local act. The bill, which Gillibrand said is similar to the National Urban League's Main Street Marshall plan, would invest $100 billion in infrastructure in the country, with 50% of funds going to "communities left behind."
"The economy doesn't work for everyone, and certainly doesn't work for a lot of black Americans," Gillibrand said. "You have to make sure all of America has access to the jobs, to the education, to the training."
Harris, who has worked closely with the National Urban League in the past, said she grew up in the fight for civil rights with parents who were both big activists.
"I am prepared to put together a robust policy around the civil rights division," Harris said. "We need a president who is committed to understanding that the criminal justice system of America needs to be reformed."
The California senator also announced for the first time a $60 billion investment she would propose, if elected President, in STEM education programs at historically black colleges and universities and other minority-serving institutions, as well as $2.5 billion into training programs for black teachers.
"By taking these challenges on, we don't just move Black America forward, all of America moves forward," Harris said.
Former Vice President Joe Biden, Sen. Cory Booker of New Jersey, Rep. John Delaney of Maryland, Sen. Amy Klobuchar of Minnesota and Rep. Tim Ryan of Ohio all spoke on Thursday.
Please enable JavaScript to view this content.