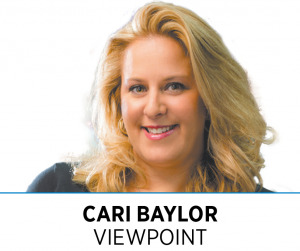 "Girls can do anything!" was the sign that hung in the bathroom of my childhood home offering encouragement each morning while I got ready for school.
Starting my professional career in trucking, I was often the only woman in the room, whether in a small conference room or a large event center seating 1,000 attendees. Before a meeting began, I would scan the room for a female ally and find none. I would take a breath and say to myself, "Girls can do anything."
But today, women are starting to take the wheel in the trucking industry. To encourage more women to choose trucking as their career, the American Trucking Associations has launched the "Women in Motion" program. The goal is to raise awareness of women in the industry and to encourage more women professionals to make a difference in a fulfilling career.
Eleanor Roosevelt said, "The world of the future is in our making. Tomorrow is now." Strong women are navigating new roads in a rapidly changing trucking industry. I am excited that ATA and its member companies are highlighting the evolvement of our industry by launching "Women in Motion." The diversity of opportunities exceeds your imagination. My friend Morgan Jackson, director of global destination operations for Walmart, ensures our needed retail goods reach our nation's ports on time and safely. Laura Bloch, general manager of Paccar Parts, maintains the availability of truck parts to keep America rolling.
In the past, women in the trucking industry might have been invisible but were not invaluable. Today, women are leading and creating dynamic change. Women in this industry can do anything—from driving the big rigs to leading logistics, sales and finance functions.
I love that my job supports our country's truckers, both male and female, who deliver our nation's products. Every day presents the opportunity to make a difference by solving a variety of logistical needs, from delivering necessary goods for flood relief to expediting COVID medicines directly to a hospital to ensuring the expedited 50th anniversary gift is delivered on time. Trucking provides the critical link for the nation, as more than 80% of U.S. communities depend solely on trucking for delivery of goods and commodities. The old saying, "If you got it, a truck brought it," is as true today as ever.
Numerous reasons exist for why a woman would want to work in trucking. Jobs are available nationwide; each of the 50 states has at least 1,000 people employed in the trucking industry—offering jobs on the road, in the office or in the shop. The trucking industry provides the opportunity for a balanced life by offering time at home for health and happiness in addition to a fulfilling, financially beneficial career.
The industry offers competitive pay packages, with office wages meeting or exceeding those of other industries. The average annual wage for over-the-road tractor-trailer drivers is more than $40,000, with many drivers making more than $60,000, with the possibility of more than $100,000. With no degree requirements and training requiring less than two months, new drivers have the opportunity to earn higher wages more quickly than in other careers. A commercial driver's license is required and can be earned by passing a skills test and a knowledge exam. Loans and grants are available to drivers to attend state-certified CDL schools.
For women interested in a dynamic career where each day is different with new paths to navigate, endless growth opportunities and the ability to make a difference for our country and help others, please join us in trucking. It is an incredible job, and I work with great people each day.•
__________
Baylor is president and CEO of Baylor Trucking.
Please enable JavaScript to view this content.