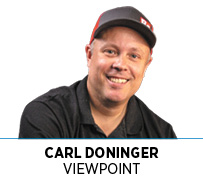 When I was asked to write this op-ed, I do not believe the IBJ knew of my unique perspective from the Final Four hardwood, gained nearly 30 years ago. I was chosen because I founded and co-own one of the city's larger public events: PopCon Indy.
At a high level for those unfamiliar with PopCon, it is Indy's only locally-owned large pop culture show held at the Indiana Convention Center (this year July 9-11). We serve a very passionate fanbase of geeks, nerds, and anyone that finds happiness in all things pop culture.
I have been tasked with discussing how the entirety of the NCAA Men's Basketball Tournament, being hosted in Indianapolis/Central Indiana during this global pandemic, will impact the potential prosperity of the events like PopCon later this year. 
Little did the powers-that-be know, however, that I myself have been part of a Final Four team.
Eons ago, when the three-point line was still a toddler in college hoops, I was fortunate enough to be one of the team managers for the '92 Indiana University Men's Basketball team who went to the Final Four. (I will not discuss how badly we were robbed.)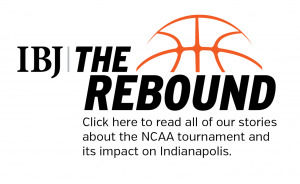 Now, when people think of large events these days, people immediately think "super-spreader." Let's first look at things from that pessimistic worst-case scenario, picturing scenes that you would normally see at college basketball tournament games pre-pandemic. 
At the games, people are packed shoulder-to-shoulder, no social distancing in queue lines, people lining up for concessions, and no one wearing masks, or not wearing them properly. 
People are traveling from all over the country and are moving mainly through the Indianapolis International Airport, bringing with them their respective locality's potential for infection. Fans are partying in hotel lobbies, or hanging out in crowded bars. Everyone is having fun, but from the outside looking in, nothing is safe.
This simply will not be the case.
As we have been working with the powers-that-be, including Visit Indy, Indiana Convention Center & Lucas Oil Stadium, the Department of Health, and IU Health, there are very clear guidelines that must be met.
More importantly, however, they are guidelines that keep people as safe as possible using the best information available at the time. It is imperative to maintain this level of safety.
Like PopCon, the NCAA is in the business of "fun." Fun will not be had if you are worried about yourself and the people in which you come into contact. It is just as important for the world to see that Indianapolis, and Indiana-at-large is taking this undertaking seriously.
What the groups involved in the NCAA tournament are about to undertake would be amazing even in a "normal" year. In 2021, it will be nothing short of astounding.
This is what Indianapolis does and will do. I am biased, but it never ceases to amaze me the incredible leaps of planning and hosting in which we are capable. From the Indy 500 to the Super Bowl, from the Pan Am Games to the World Basketball Championships, from the largest mini-marathon in the country to the hundreds of conventions and conferences like PopCon that fight for space at the Convention Center and Lucas Oil Stadium, Indy hosts the biggest of the big.
The success, or failure, of any event in early 2021 weighs heavily upon those of us who will operate potentially large events later this year. Not only are our fans weary from the past year and the lack of anything in which to participate, but they are equally wary of getting together in groups. Rightfully so I say. 
We have all been bombarded with safety requests, venue restrictions, and working from home when possible. Everyone wonders when it will be safe to step back among each other, out of our respective bubbles. 
The NCAA is bursting that bubble to the tune of the whole March Madness. I believe it will be a controlled and safe "madness," with players, families, and fans safe in Indy's hotels, venues, restaurants, and bars. I believe people will be good tournament citizens and socially distance. I believe they will wear their masks and wear them properly. I also believe they will scream a little bit louder behind those masks so their teams can hear them in the stands. 
So for us it is a simple equation: the continued growth of events like PopCon in 2021 depend on the tournament being a success. I have every confidence the NCAA will indeed be victorious. 
Doninger is founder and co-owner of PopCon Indy.
Please enable JavaScript to view this content.