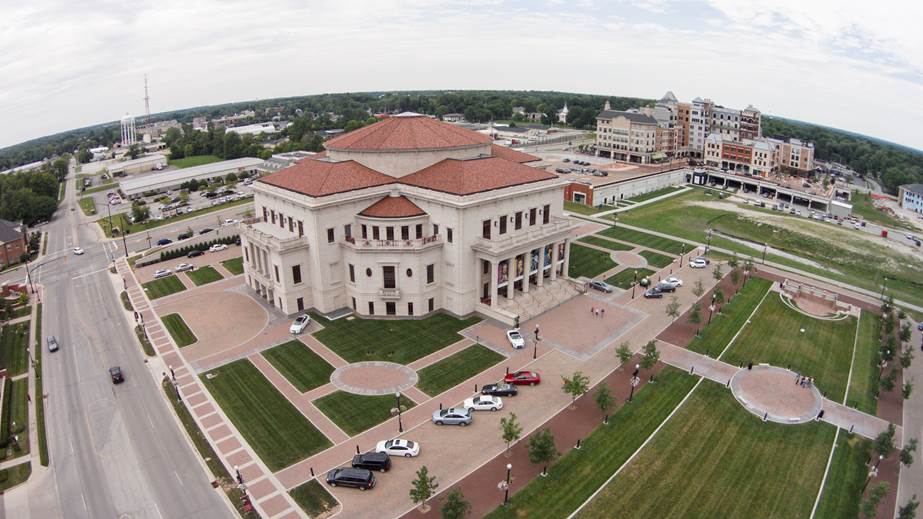 Carmel's Palladium will receive $1.5 million in upgrades next year to its interior lighting and public address system, which theater officials say will help keep the 11-year-old facility up-to-date and maintain its ability to attract top performers.
The Carmel City Council on Monday night unanimously approved the funding that will come from the city's redevelopment commission.
Jeff McDermott, CEO of the Center for the Performing Arts, told the Carmel Finance, Utilities and Rules Committee last week that he would also like to install electronic signage outside the Palladium. However, that project would be delayed if it cannot be covered by the $1.5 million.
"I would say that our priorities would be what I call the capital needs versus the capital want," McDermott said. "The capital needs really are a new PA system within the Palladium and a new lighting system within the Palladium."
The Carmel Redevelopment Commission will issue a request for proposals from vendors. Installation of the new lighting and public address system could begin next summer.
In September, McDermott told the city council the "antiquated" lighting and public address system hinder the ability of the Center for the Performing Arts to attract performers to the Palladium.
He said a temporary public address system was installed when Harry Connick Jr. performed at the Palladium in November 2018, while special accommodations were made for Sting and John Legend when they held shows in Carmel.
As for Ringo Starr, "we can offer him money, but we can't offer him the sound system he requires," McDermott said.
"Our system is not world-class anymore as far as our PA system or our lighting system goes," he added. "This affects the enjoyment of our patrons. It affects our ability to attract world-class artists."
McDermott said last week the new public address system would have a life of about eight years, while the lighting system should last around nine years.
A new lighting system would cost $615,000 to $765,000, while the new sound system would be about $643,500 to $820,500.
The electronic signage, which McDermott said would be used to advertise Center for the Performing Arts events, would cost $148,500, and a limestone encasement would add an additional $200,000.
"The lighting system and the sound system need to be done to maintain the integrity of the hall," McDermott said.
The $111 million Palladium, which opened in 2011, houses a 1,600-seat performance hall and is the main venue of the Center for the Performing Arts campus. It's also home to the 500-seat Tarkington theatre and 200-seat Studio Theatre.
The fourth floor of the Palladium, known as the Gallery Level, also contains the Great American Songbook Gallery, the Great America Songbook Foundation's offices and library, and the 1,400-square-foot Shiel Sexton Songbook Lounge.
Please enable JavaScript to view this content.