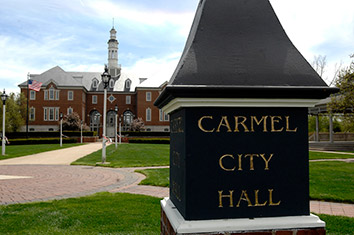 The Carmel City Council slightly modified, then approved a $25 million bond Monday for undisclosed land acquisition, a new water tower light show, roundabout art and more.
Members of the Carmel City Council held eleven public meetings between last December and Monday night to evaluate and discuss the city administration's request to use $25 million in tax increment financing bonds for various projects. All but one of council member Tim Hannon's attempts at amending the bond to eliminate or alternatively fund some of the projects failed by way of split vote.
The overall bond's issuance was ultimately approved 5-3, with council members Tony Green, Laura Campbell and Hannon voting against and Bruce Kimball absent.
"Carmel is in excellent financial health, and I cannot ignore the 20-plus years of historical success using [tax increment financing], which is generated by our commercial property owners but benefits all of us," Council member Jeff Worrell said.
The bond's approval, which is funded by the increase in assessed value on projects within certain taxable areas across the city, is not expected to increase resident tax rates.
The administration's original $25 million request included:
$13.4 million to acquire 26 unidentified parcels (the city has not said what parcels it would like to buy, saying revealing that information could hurt the negotiation process);
$4 million for roundabout improvements, including new art on 96th Street;
$2.5 million for the Carmel Clay Historical Society to expand its museum and other township projects;
$1.5 million for a light projection display on the water tower near Midtown;
$920,000 for improvements to the Tarkington and Sophia Square garages;
$650,000 for electronic information kiosks;
$225,000 for interior signage for the Center for the Performing Arts.
One amendment to the bond issuance introduced by council member Adam Aasen requires any land acquisition above $49,999 be automatically forwarded to the council for review and approval.
Hannon's attempts to amend the bond would've removed funding for a water tower light display in Midtown, roundabout art along 96th Street and near Zotec Partners' developing headquarters, funding to repair the Tarkington and Sophia Square garage repairs so that operational funds could pay for the improvements, signs for Carmel's Center for Performing arts and seven kiosks.
Removing those projects' cumulative $6 million of long-term debt would free up funds to pay for infrastructure projects, Hannon said.
"Just because we have a credit limit doesn't mean we have to spend it," he said.
The only one of Hannon's amendments to receive enough votes was a proposal to eliminate the purchase of the electronic kiosks. That alteration and Zotec Partners' commitment to match the city's spending on roundabout art near its developing headquarters up to $250,000 ultimately transferred $900,000 to the land acquisition portion for the bond.
Worrell said many projects—the Carmel Christkindlmarkt, the Monon Community Center, the Arts & Design District's arches, the community farmers market—were highly criticized before they were fully realized as a part of what sets the city apart.
Several council members expressed concerns about the water tower light show, so another amendment to the bond issuance will require the Carmel Redevelopment Commission to firm up details about the project and present it to the Carmel Public Art Advisory Committee before it goes before council for final approval.
Aasen said some of his constituents liked some of the projects, other people liked others and some didn't like any.
"But, the common theme I kept hearing again and again from people when I asked them what they thought about this is a desire to keep Carmel on its path of success," Aasen said. "Overall, what I heard from people is they didn't want to see the city head in a different direction."
Please enable JavaScript to view this content.