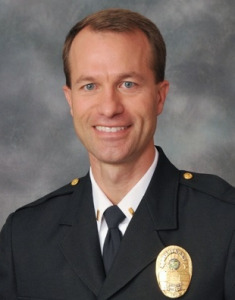 Carmel Mayor Jim Brainard has accepted the resignation of Carmel Police Department Chief Jeff Horner, the city announced Monday. The resignation comes less than a week after Horner suspended the department's deputy chief of administration after an investigation revealed multiple allegations of "inappropriate behavior."
Retired Police Chief Jim Barlow will serve as interim chief until a permanent replacement is chosen, the city said.
Later on Monday, Carmel sent a follow-up announcement that said Horner would remain on the police force as a lieutenant.
"The City of Carmel wants to clarify that when a police chief resigns or is removed from their appointed position as police chief, he or she reverts to their merit position on the police force," the city said. "We would like to further clarify that Jeff Horner has resigned from his appointed position as chief, but will remain with the Carmel Police Department as a lieutenant."
Horner served as police chief for about seven months after Barlow retired in January. Barlow led the police department for about 4-1/2 years.
On July 20, the city announced that Horner had suspended Deputy Chief of Administration Joe Bickel and recommended to the Carmel Police Merit Board that Bickel be dismissed from the police department.
Dan McFeely, a spokesperson for the city, declined to provide additional information about Horner's resignation or say if it was related to Bickel's situation.
"The City of Carmel has no further comment at this time," McFeely said in an email.
An external investigation uncovered allegations that included claims that Bickel groped the breast of a female employee, attempted to forcibly kiss another female employee, and kissed the hand and neck of third female employee.
The investigation also found that Bickel allegedly attempted to use his position of authority to influence a Carmel Police Department employee to violate a departmental standard operating procedure to benefit a family member.
Bickel, a 28-year veteran with the Carmel Police Department, was suspended following the investigation.
Please enable JavaScript to view this content.