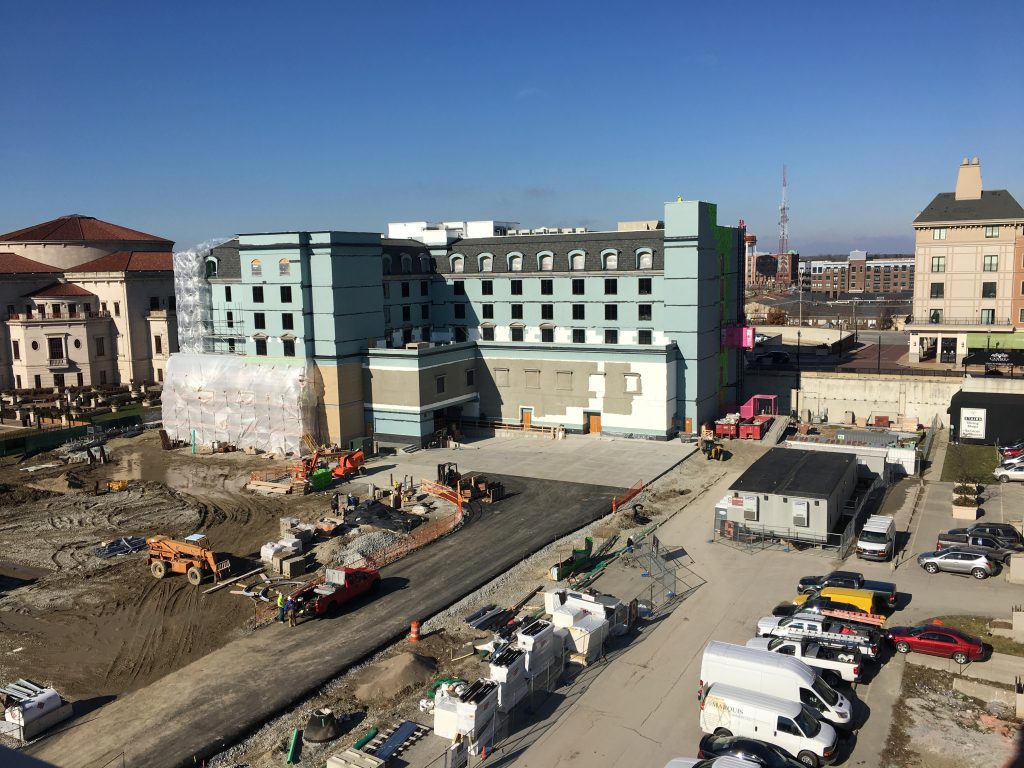 A double-barrel audit may be the next step in scrutinizing why Carmel's boutique hotel project, The Hotel Carmichael, is about $20 million over its original budget.
Carmel's City Council met Monday to hear its regularly scheduled update from the Carmel Redevelopment Commission. This month's report focused largely on a disclosure made to some councilors on Thursday and to the public on Friday night that the high-end hotel under construction at Carmel's City Center will cost $58.5 million by the time it opens in May, up from an estimate of about $38 million in mid-2017.
Henry Mestetsky, executive director for the CRC, said the commission has identified $15 million in patchwork funds from new mortgages, old bonds and its operating budget to cover the gap without turning to the taxpayer.
"In every one of those cases of additional CRC contribution, there is not a single dollar of risk to the taxpayer, on any one of those transactions," Mestetsky said. "We don't need to increase room rates by a single dollar."
Nearly $12.5 million of the stop-gap measures will be reimbursed to the commission by way of the hotel's profits, Mestetsky said.
Beyond the inflated budget, councilors expressed concerns about public awareness and transparency surrounding the disclosure. Carmel announced the budget situation in a press release Friday night after local media outlets, including IBJ, had been asking about rumored cost overruns on the project since mid-January.
Councilor Tony Green, representing Carmel's Southwest District, said he tried and failed to find any public document that would've let council members know about the hotel's ballooning costs.
"I know there are three or four people in here that don't miss much, and they were radio silent for the last year-and-a-half on the hotel," Green said. "You had an opportunity each and almost every council meeting here to say something. You gave the perception to all of the council members that we were staying on course. That's the issue I have."
Mestetsky said the commission knew in early 2019, after publicly bidding the project, that the city was facing a total cost of more than $55 million for the hotel.
In response to Green, who said some may see the lack of a timely announcement as the CRC going rogue, Mestetsky said the disclosure was intentionally delayed.
"We wanted that update to happen when we could say with 100% certainty that there would not be another dollar spent," Mestetsky said.
Tim Hannon, a freshman at-large councilor, garnered early support for two independent audits. He proposed the first audit consider the project's financial planning and execution, while the second focus on how the city announced the new total.
Though no formal action was taken, councilors suggested Hannon work with city legal employees to form an official resolution with recommendations. Mestetsky said he supported the idea of an audit.
"I go to bed at night with the redevelopment statute," Mestetsky said, referencing his legal and finance background.  "I don't want a conversation about auditing practices to have some sort of insinuation that a single move taken by the CRC in public or in private…[was] somehow not above-board."
Please enable JavaScript to view this content.