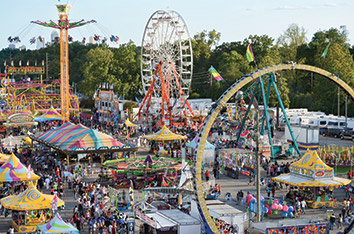 The Indiana State Fair has been called off this year, but the fairgrounds will still feature dozens of rides and vendors selling fair food this summer.
Farmland, Indiana-based North American Midway Entertainment, or NAME, announced Tuesday that it will bring a summer carnival to the Indiana State Fairgrounds from July 31 to Sept. 7.
Fairgrounds Fun Park will feature more than 50 thrill and family rides and 40 different food vendors, NAME said. Rides will include the Star Dancer, the Skyride, the Crazy Mouse Roller Coaster and the Giant Ferris Wheel.
The carnival be open daily except Mondays and Tuesdays starting at noon. No admissions will be allowed after 9 p.m. The only expection to the closed-Mondays rule will be Labor Day.
"We are excited to bring much needed fun and excitement to Indiana for the summer," NAME CEO Danny Huston said in written remarks. "We are uniquely positioned as an Indiana company to provide this experience for Hoosiers and we are so excited to bring back the sounds, smells and sights of summer during this challenging year."
The company plans to implement pandemic safety procedures for guests and staff at the carnival, led by a full-time onsite COVID customer and employee safety director.
Tickets can be purchased online or on-site. Early-bird tickets purchased online through July 8 are $25. Other tickets will run from $29 to $39.
A general-admission ticket for non-riders is $10.
NAME, founded in 2004, provides rides, games and food to fairs and festivals in 140 communities in 20 states and four Canadian provinces.
The Indiana State Fair had been scheduled for Aug. 7-23 but officials called it off this year because of the pandemic.
Please enable JavaScript to view this content.